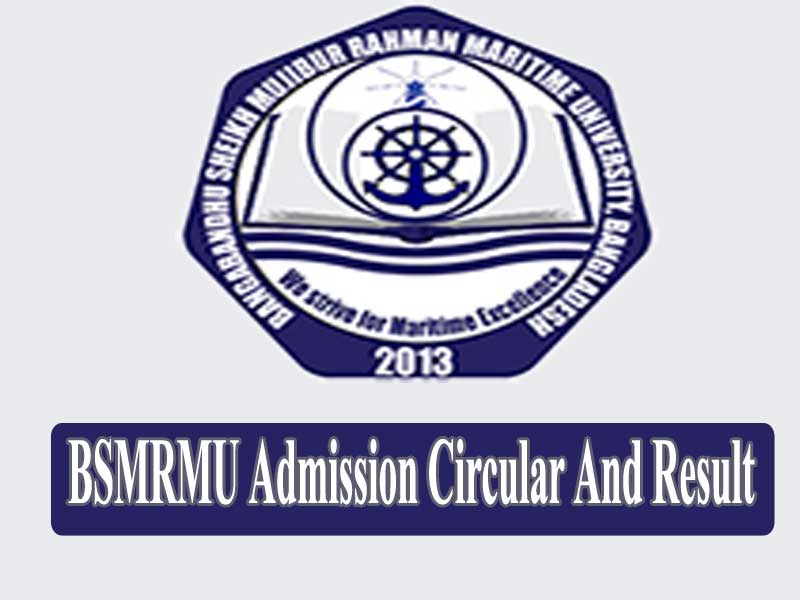 Welcome to BSMRMU Admission circular 2019-20. Bangabandhu Sheikh Mujibur Rahman Maritime University is an outstanding and public university in Bangladesh which is recently discovered. The location of BSMRMU in the Dhaka Division. The university word is enormous for every student. After completing higher secondary education, every student wants to admit any university which is widespread and very large and famous. If you wanted to admit Bangabandhu Sheikh Mujibur Rahman Maritime University, then we will give you full guidelines on how to apply and admission process, etc. This guideline for those students who completed HSC in 2019. Our website will provide you with comprehensive information about BSMRMU All unite admission.
BSMRMU Admission Circular 2019-20 Important Date
Application Starts: 15th September 2019
Application Ends: 17th October 2019
Eligible Candidate list: 31st October 2019
BSMRMU Admission Date: 22nd & 23th November 2019
Faculty of Maritime Governance & Policy: 22nd November 2019(10 AM)
Shipping Administration: 22nd November 2019(3:30 PM)
Faculty of Earth and Ocean Science: 23th November 2019(10 AM)
Faculty Of Engineering And Technology: 23nd November 2019(3:30 PM)
BSMRMU Result: 28th November 2019
Bangabandhu Sheikh Mujibur Rahman Maritime University Admission 2019
BSMRMU Admission Requirements:
HSC Passing Year: 2019/2018
GPA Minimum 4 out of 5
Some Faculty you will need another requirement for Admission of BSMRMU. Check below About All the faculty Requirements:
Admission Requirements: B.Sc (Hons) in Oceanography
SSC and HSC Must be passed in Science Group.
GPA: 4.00
Minimum 'A' grade in any two subjects from Mathematics, Physics, Chemistry, English and Biology
Admission Requirements: B.Sc (Hons) in Marine Fisheries
HSC Passing Year: 2018 Or 2019 
GPA Minimum 4.00 And Applicants must have Biology in HSC
Admission Requirements: BSc in Naval Architecture and Offshore Engineering
Must SSC And HSC passed From Science Group
minimum GPA is 4.00
Must 'A' Grade in two Subject from 4 Science Major Subjects
Admission Requirements: LLB (Hons) in Maritime Law
The minimum GPA Is 3.5.
HSC And SSC pass
Admission Requirements: BBA in Port Management & Logistics
SSC And HSC passed With Any Group
Total GPA of 7.5 (HSC and SSC) but not less than 3.5 in any examination.
Marks Distribution:
Here is the Total Marks Distribution of BSMRMU Admission 2019
Mathematics
Physics
Chemistry
English
Biology
For LLB: Bangla, English and General Knowledge
Bangabandhu Sheikh Mujibur Rahman Maritime University admission circular 2019 Download
Application Fees:
The BSMRMU admission fees for every faculty is 800TK.  Applicants can pay the fees of BSMRMU admission from any mobile banking of Bangladesh as well as VISA, Mastercard, nexus Card.
Check Barisal University Admission 2019
BSMRMU Application Process
Interested And Eligible Candidates can apply for BSMRMU admission online. You have to follow some steps to complete your admission to Bangabandhu Sheikh Mujibur Rahman Maritime University.
To Apply Online Go: BSMRMU Admission 2019
After completing online Application you will need to pay fees through the above method that we are already provided.
BSMRMU Admit Card Download Online
Online Application Period :
15 September 2019 – 31 October 2019
Admit Card will be available on BSMRMU official website from 05 November 2019. To download your admit card follow the below steps:
First Go: BSMRMU Admit 2019
Login with your Username and Password
Fill the captcha
Click On Submit
After that, You can download your Admit card for BSMRMU admission 2019. Print the copy before the admission date.
BSMRMU Admission Result 2019
The BSMRMU admission Result may be published 28th November or the Last week of this November month. The BSMRMU authority will call selected candidates for the VIVA exam. It will mainly for Subject choice. All the information about Admission Result will available on our site as well as BSMRMU official site: https://www.bsmrmu.edu.bd/
Candidates can download their admission PDF file from our Site or Bangabandhu Sheikh Mujibur Rahman Maritime University website.
Thanks For Reading this whole article about BSMRMU  undergraduate admission 2019. Hope this post is helpful for you.  To know more about BSMRMU admission 2019 or Anything you want to know Just comment below. We will try to answer your question.