On every year 26th March Bangladesh celebrates its independence day in across the country. Bangladesh Independence Day 2022 will also celebrate this year with great respect and solemnity. We celebrate this day with great reverence every year since March 26, 1971. The liberation war of Bangladesh has started since this day. Bangladesh Independence Day 2022 will be the best independence Day for you.
Before the start of the first morning of the day, on March 25, 1971, in the memory of the massacre that the Pakistani army had started, several programs were organized in different places including Dhaka University.
Bangladesh Independence Day 2022
On 26 March, Bangladesh's independence declared on this day of 1971. Now, look at the days of the Independence Day celebrations in the previous years and on which days in the next few years it will be celebrated. This year Bangladesh Independence Day 2022 is Saturday, March 26.
Previous Years of Independence Day in Bangladesh:
| Year | Date | Day |
| --- | --- | --- |
| 2018 | 26th March 2018 | Monday |
| 2017 | 26th March 2017 | Sunday |
| 2016 | 26th March 2016 | Saturday |
| 2015 | 26th March 2015 | Thursday |
Next Few Years of Independence Day in Bangladesh:
| Year | Date | Day |
| --- | --- | --- |
| 2019 | 26th March 2019 | Tuesday |
| 2020 | 26th March 2020 | Thursday |
| 2021 | 26th March 2021 | Friday |
| 2022 | 26th March 2022 | Saturday |
This year of 2022 Bangladesh will celebrate 51th Independence Day. We never understand the importance of independence if our country was not independent. Check the full
History Of Bangladesh Independence.
26 march Bangladesh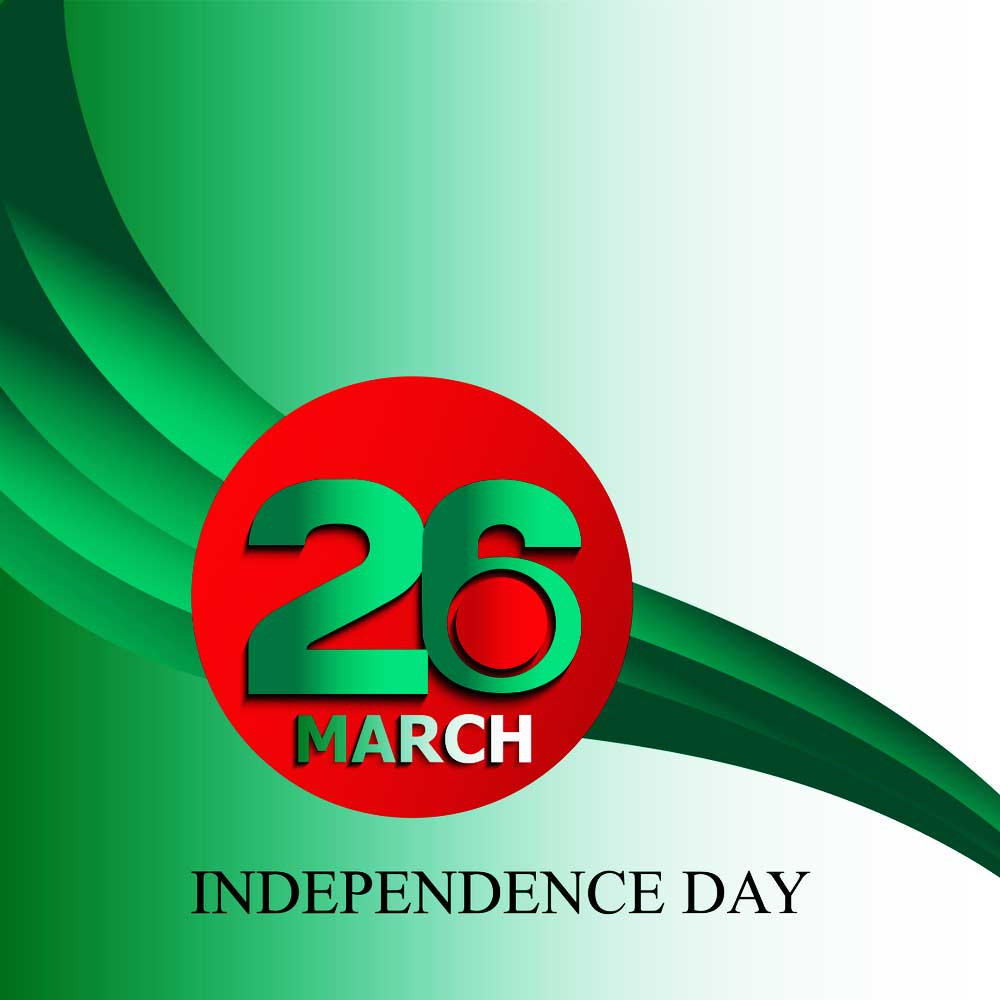 Originally the beginning of Independence Day is from the night of 25 March. On the night of 25 March, Pakistani soldiers jumped to the sleeping Bengali people. They killed many people that night. The background of the 26 March highlights below.
25th March Night: In the 25th March Nigh Pakistan Army attacked Bangladeshi sleeping people. They killed many people on that day and also rapped many girls. In the darkness of the night on 25 March 1971, The Pakistani military jumped against East Bengal in East Pakistan, the war of independence was started by a war. On the night of March 25, the Pakistani military killed many ordinary citizens, students, teachers, intellectuals, police, and E.P.R. in Dhaka. In the 1970 general elections, Awami League chief Bangabandhu Sheikh Mujibur Rahman was arrested.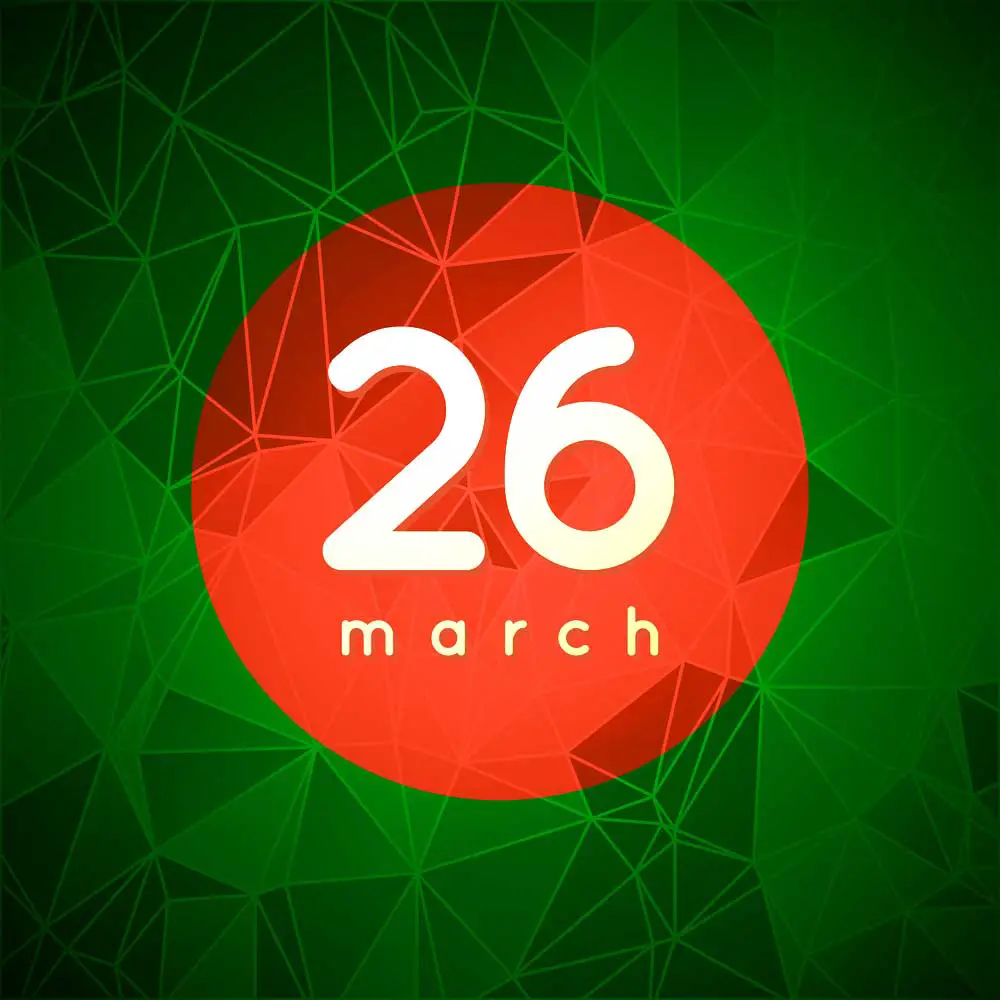 26th March: After that Major Jiaur Rahman declared independence day on behalf of Sheikh Mujibur Rahman. Then People of Bangladesh started a war against Pakistan. After Nine Months War, Bangladesh got independence in the date of 16th December 1971.
Historic 7th March Speech By Bangabandhu
Check Bangla Speech as an image format From Education BD. Present Bangladesh was a dream of Bangabandhu Sheikh Mujibor Rahman. 7th March Speech by Bangabandhu given below.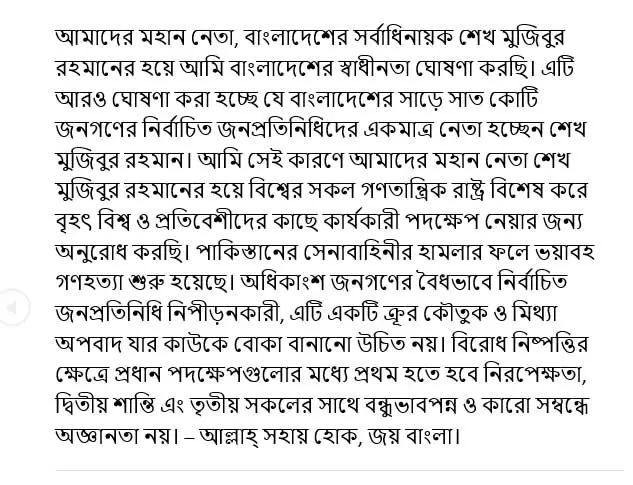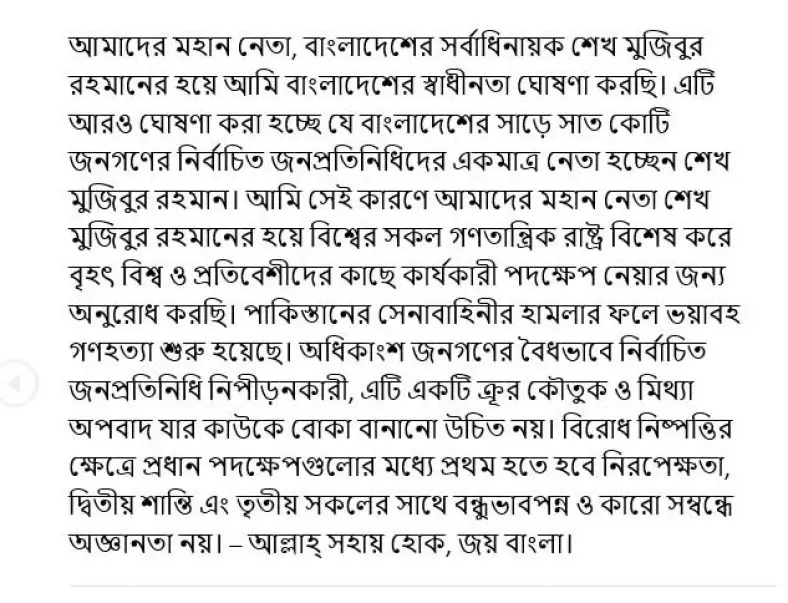 English Speech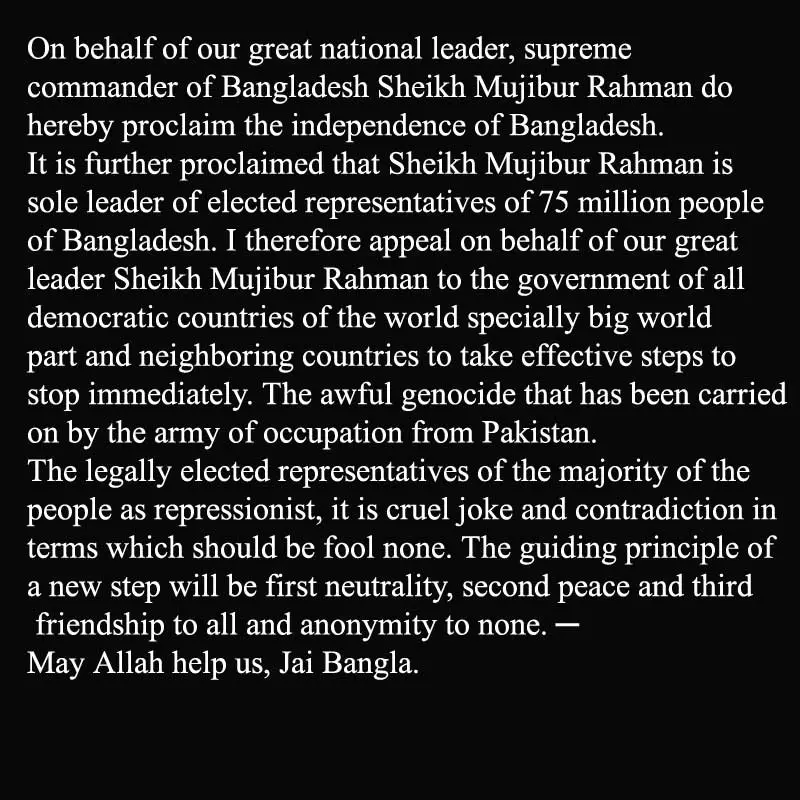 There was some demand for the liberation war of Bangladesh on 7th March in the speech of the Pakistani government.
The Demands are:
Lifting of the prevailing martial law;
Withdrawal of the soldiers to
their barracks.
Inquiry of the mass killing;
Transfer of power to the elected
representatives.
Bangladesh Independence Day Celebration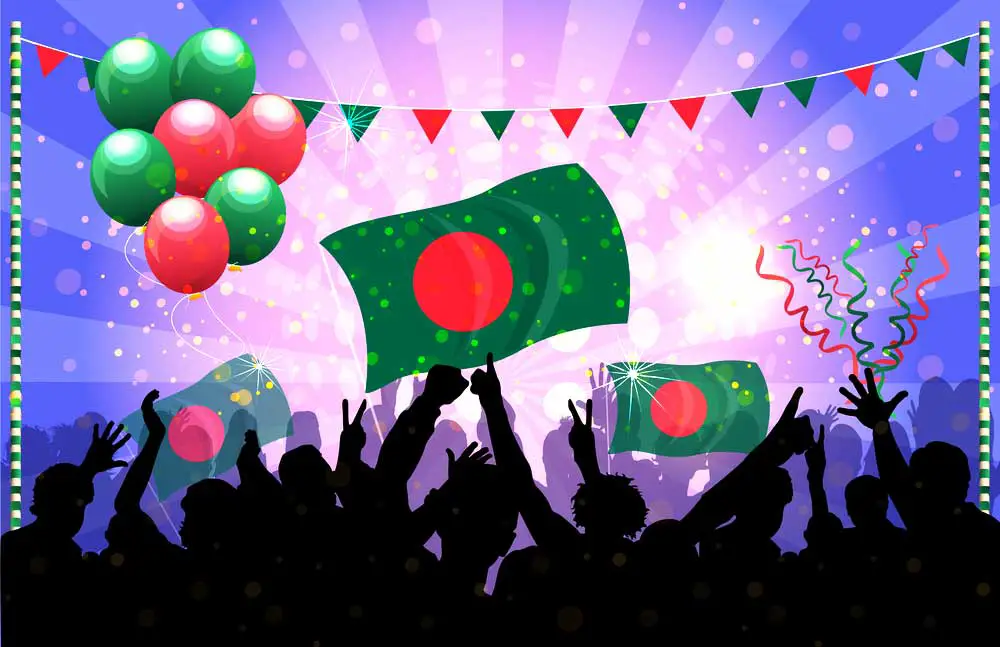 The Independence Day of Bangladesh is celebrated in a very colorful manner. The celebration begins with wreaths at the National Memorial. This day starts with 31 times Towel. With the sunrise, national flags were hoisted in government, semi-government, autonomous and privately-owned buildings. From the morning till night, the main roads and roadways of the city are decorated with national flags and different colors. In the national stadium, students of the educational institutes presented rallies, parades, displays, and athletics.
This is a public holiday all over the country.
Bangladesh Independence Day Pictures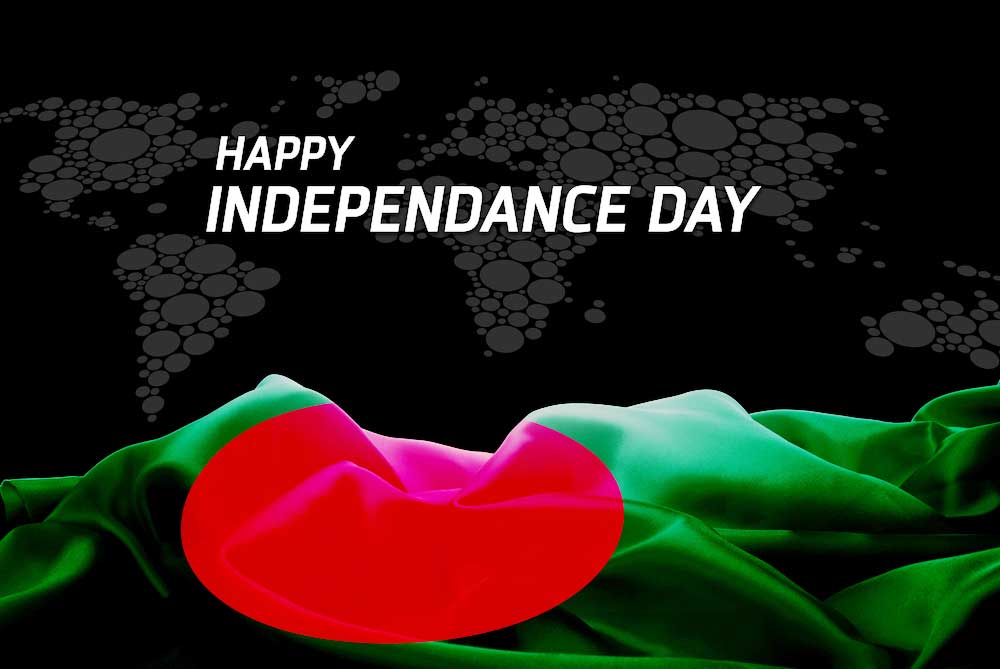 Here are some collections of Bangladesh independence day pictures. You can download it from education bd and also can save this picture to your gallery. Independence is an important thing in Bangladesh. We got our national flag by 9 months of war.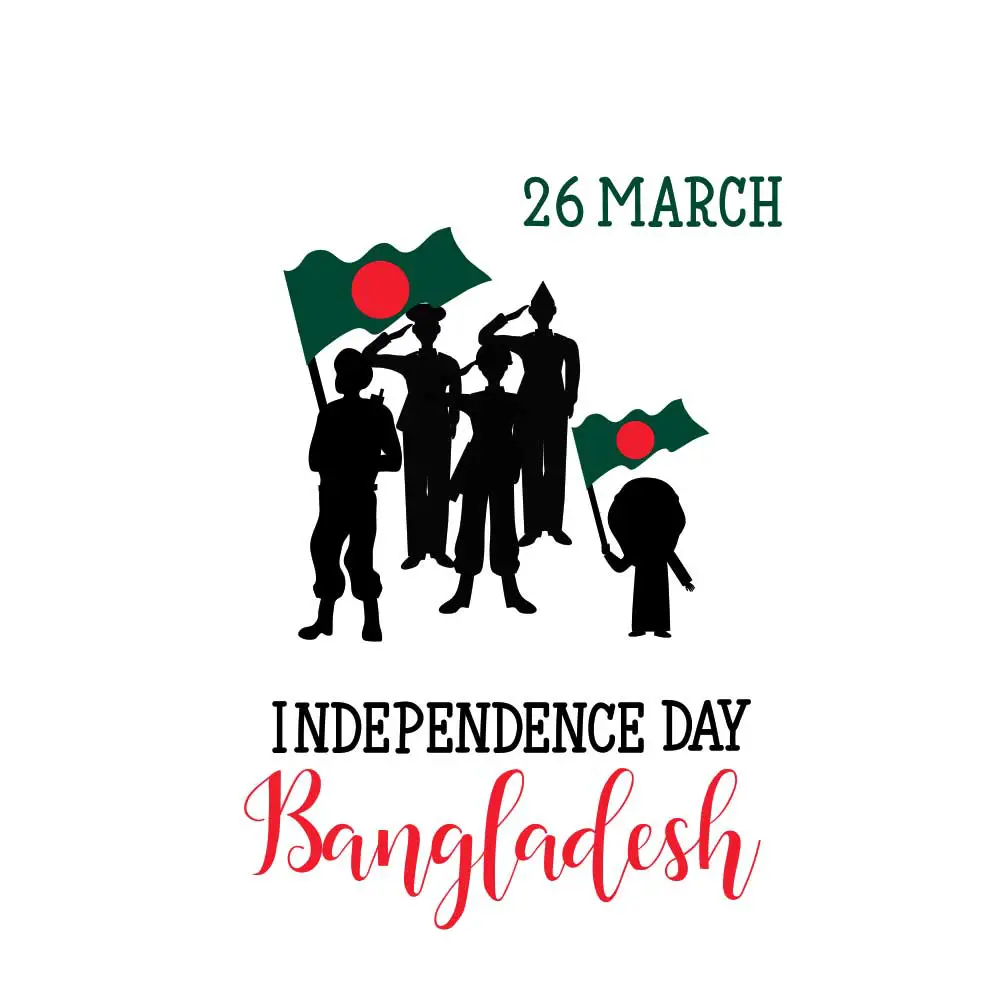 This day images of independence become very essential for us because we use this independence day image to wish our relatives, friends and also post on many social media like Facebook and others.