Are you looking for Khulna Agricultural University Admission 2020-21? Then this is the perfect place for you. Here you will get all the information about Khulna Agricultural Admission 2020-21. Khulna Agricultural University is the last dream of students. It is the newest and best University in Khulna. It's a public university. Khulna Agricultural University has started with two departments for students to study. These two units are the best units for all categories of students. The students who want to get studies in the Vatenery and Agriculture, Then these Units are the best. Now We provide the full information of Khulna Agricultural University Admission 2020-21.
Khulna Agricultural University Admission 2020-21
Students who are secondary/equivalent from 2018 and in the following examinations in 2020.
The application will not be accepted if you get under the B grade (grade point 3.0) of any subject in the Higher Secondary and Secondary examination.
The student's background must be on Science faculty in SSC and HSC. Total grade point for admission of HSC and SSC is 7.0. Every Subject of SSC and HSC must be 3.0. Under 3.0 students can't able to apply for admission KAU.
KUA admission Apply Date – Exam Date
[wpsm_comparison_table id="85″ class="center-table-align"]
Khulna Agricultural University Subject List
This is the newest and first Agricultural University in Khulna. So it just started only two subjects under the graduation programme. Subjects are:
Vatenery, Animal and Biomedical Science
Agriculture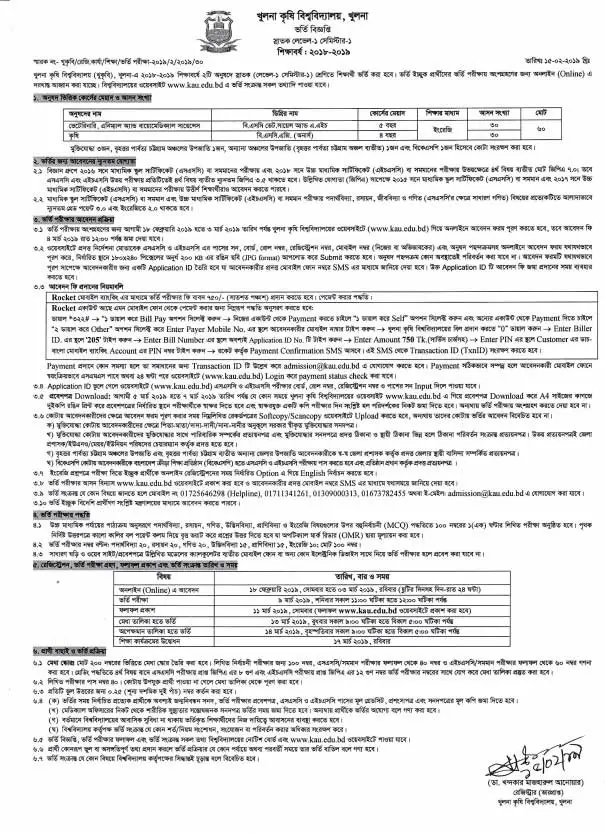 KAU Admission Requirements
Students must need Science group and will have to pass SSC in 2016 and HSC in 2018.
Total CGPA(SSC & HSC)=7.0(Including 4th Subject)
In both SSC and HSC examinations, the minimum GPA 3.5 will be inclusive of the 4th subject.
Students who passed in 2015(SSC) and 2017(HSC) can apply for this admission.
In SSC and HSC exam, These subjects CGPS must be 3.0(Physics, Chemistry, Mathematics and Biology) and English(2.0).
KUA Admission Apply Online
KAU started the online application for any type of Admission. It is the most accessible system for students. They can easily apply for admission on KAU official website. The date of the Online application is from 18/02/2020 to 03/03/2020.
Online Apply Link: http://kau.bigmsoft.com/home
Click the link above to go Admission website.
Give your SSC and HSC information.
Click On next
Select Subject and give others information
Click on submit
After that, you will get your user id.
Use this user to complete payment.
Payment System:

KAU Admission Test System and Marks Distribution
Merit scores will be created based on a total of 200 numbers. The written examination will be MCQ. The marks of the written exam are 100 and the 100 marks based on the results of the HSC(60) and SSC (40) exams. The pass marks of the written exam are 40. The exam will be taken from these subjects. The subjects are:
English-10
Physics-20
Chemistry-20
Math-20
Botany-15
Zoology-15
Khulna Agricultural University Admit Card Download
To attend the exam center then admit card is a must. Without admit card, you can't participate KAU admission. Completing your whole process KAU will give you a date for downloading your admit card, Where you will get all the information like exam center and roll etc.
You can download your admit card through this link: KAU Admit card.
KAU Admission result 2020-21
The admission result is significant for every student. The result of KAU admission will publish on 11th March 2021. Students will be delighted if he or she gets a chance to study at Khulna Agricultural University. KAU Admission result will also be available on our website. You can download your whole result from Education Bd.
Download KUA Admission Result 2021
Thanks For reading this whole admission post. Hope Your target will be successful.
Check DU admission Result