Welcome to Jahangirnagar University JU Admission Circular 2020-21. JU published a circular for the regular session of the undergraduate program. The students who completed HSC and SSC within the recent year can apply for the JU admission 2020-2021 session. The JU admission started on 21st February 2021 and will continue until 20th March 2021. Jahangirnagar University Admission 2021 is fully online oriented. To apply for JU admission 2021, students must fill-up the form online. This post will get a clear idea of using and other details of JU admission 2021.
JU admission 2021 Important Info
Students must know about all the university admission date and Exam Date. To take preparation for university admission, it is necessary to know Admission information. Let's Check out the JU admission 2021 Apply date and Exam date 2021.
Online Application Start: February 2021(Circular Not Published Yet)
Application Deadline: 20th March 2021
Admission Date: Not Available yet
To get an update on Jahangirnagar University admission 2020-21, keep in touch with us. We will provide you with all the essential and correct information.
Jahangirnagar University Admission Circular 2020-21
The Jahangirnagar University admission circular 2020-21 is now available on our site. You can download the circular in PDF format or Image.
JU Admission Requirements
Ju A unit Admission requirements: Total Point: 7(HSC:3.5 And SSC 3.5)
B Unit: Point: 7.5(Depend on Subjects)
C Unit: GPA Total: 6.00
C1 unit: 6.00
D unit: 7.00(Must 3.5 both HSC And SSC)
E unit: 7.00(Business) And 7.5(Science)
F unit: Total GPA: 8.00
H Unit: Gpa: 8.00
I unit: 7.00
Jahangirnagar University Subjects list
You must know the subjects list of Jahangirnagar University. To apply for JU Unit Admission 2020, you need to see some information. For example, JU unit Subject list, Seat Number, And Admission Requirements for JU admission 2020-21.
Ju A unit Subject list:
Mathematics
Statistics
Chemistry
Physics
Geological Sciences
Computer Science and Engineering
Environmental Sciences
Ju B unit Subject list:
Economics
Geography & Environment
Government & Politics
Anthropology
Urban & Regional Planning
Public Administration
Ju C unit Subject list:
Bangla
English
History
Philosophy
Archaeology
International Relations
Journalism and Media Studies
Ju D unit Subject list:
Botany
Zoology
Pharmacy
Biochemistry & Molecular Biology
Microbiology
Biotechnology & Genetic Engineering
Public Health and Informatics
Ju E unit Subject list:
Finance & Banking
Marketing
Accounting and Information Systems
Management Studies
JU Admission Apply Process
Candidates can apply for JU admission 2021 through the Online and SMS method. Students need a Mobile Banking account to apply completely. Let's check the full process:
First Go to ju-admission.org
Provide your SSC and HSC information
Give your contact Number
Submit Your Application
After that, You will get an Application ID.
Use your application id to complete payment 600 and 400 BDT for Applying JU.
Payment Method: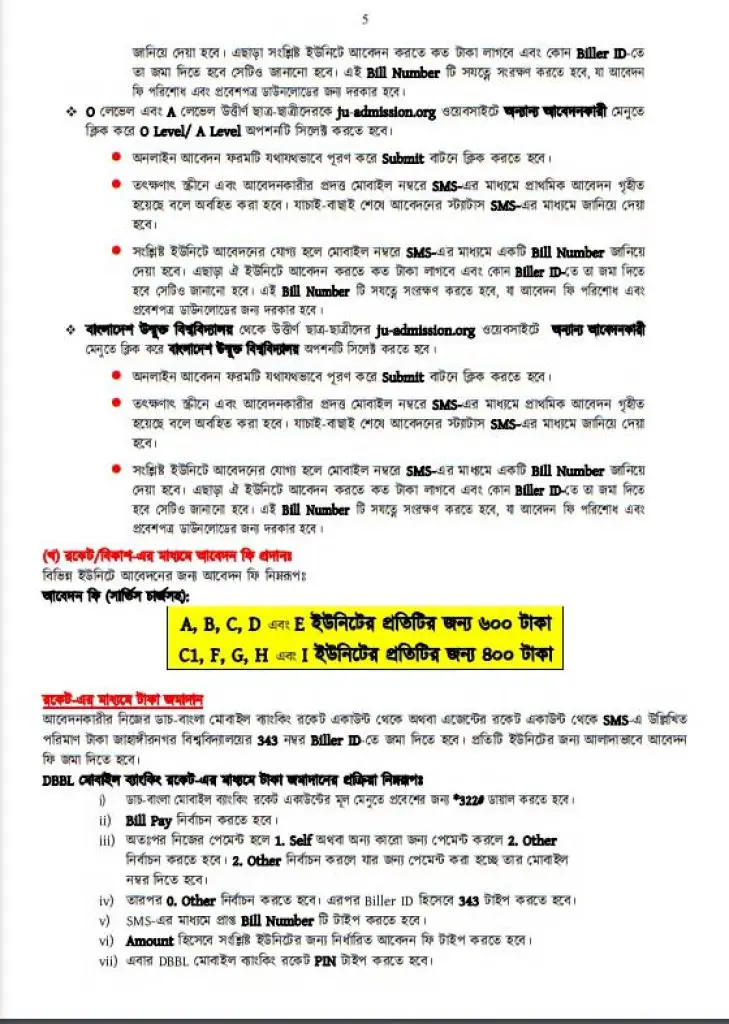 JU Admit Card Download
To download your admit Card to attend JU admission 2021. Then follow these steps: After Completing the payment JU will give you a USER ID and Password to Download Admit Card.
First Go ju-admission.org 
Give User ID and Password/SSC And HSC info
Login your Account
Download and Print Your Admit Card
Thanks for Reading this Whole article about JU admission 2021. We hope this article is helpful to you. If any problem or any updates you want to know then comment here or send a message on Facebook.
Check SUST Admission