Welcome to BSTSL Job circular 2021. Bangladesh Safe Transit Systems LTD publishes a job circular for Bangladeshi permanent Citizens. BSTSL publishes circular for 15 different posts. Candidates can apply for these posts easily from our site. If you are professional and motivated to build a good career in Bangladesh Safe Transit Systems LTD, then this is the best job for you.
BSTSL Job Circular 2021
Published on: October 24, 2021
Vacancy: 15(Different Posts)
Job Type: Government Job
Employment Status: Full-time
Experience: No
Gender: Both
Age: Age 18 to 30 years
Job Location: Anywhere in Bangladesh
Apply Start: 24th October 2021
Application Deadline: 7th November 2021
The Bangladesh Safe Transit Systems LTD will appoint human resources for 15 different posts. The significant posts are:
Director
Civil Engineer
Electric Engineer
Mechanical Engineer
Control Officer
Monitoring Officer
The BSTSL Institute will provide you with a standard salary.
Bangladesh Safe Transit System LTD Job Circular 2021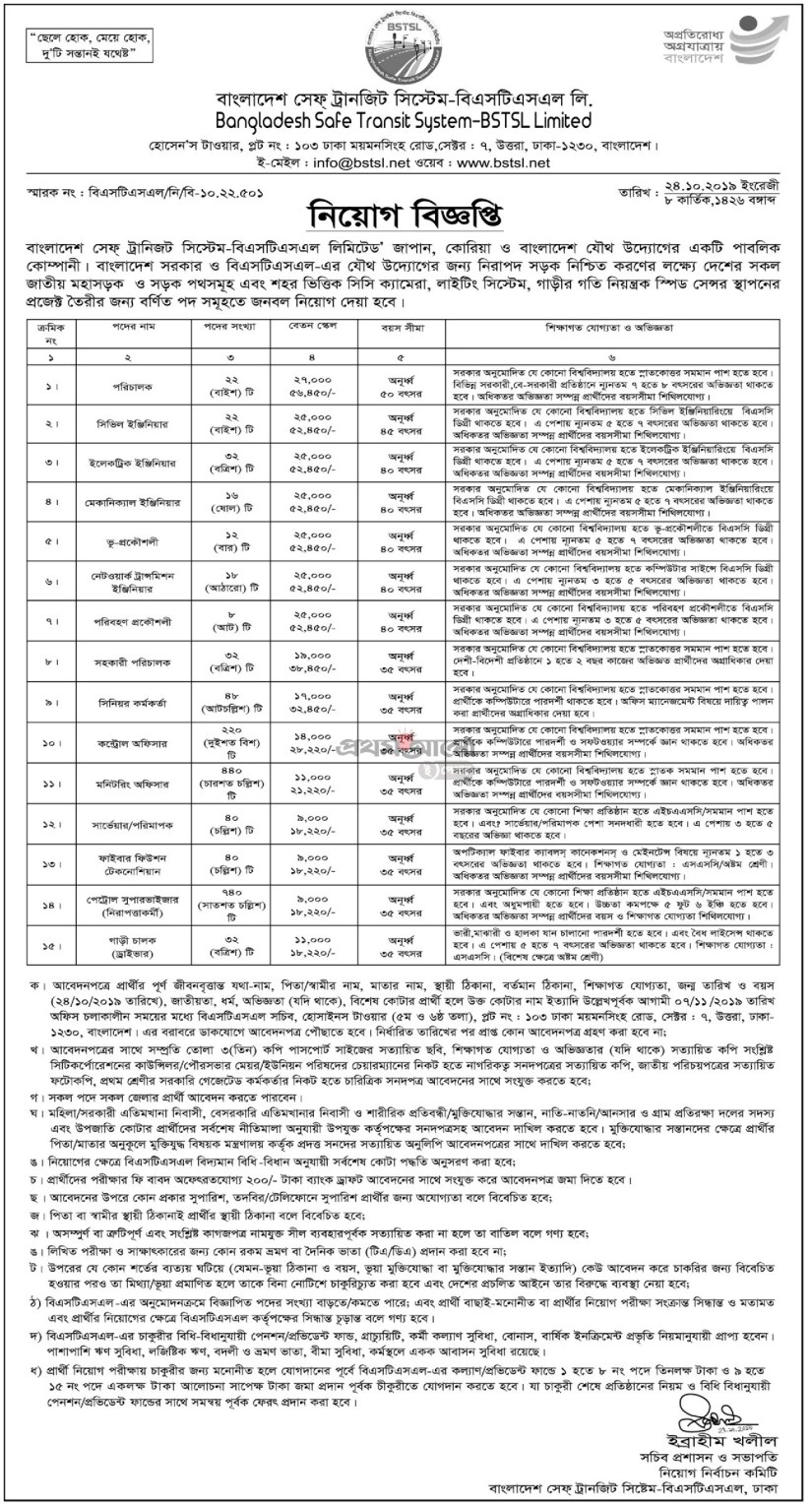 Education Qualification: See the above image to get clear instructions about qualifications for Different posts.
Check NSI Job circular
BSTSL Job Circular 2021 Apply
To apply the BSTSL job you have to use the Post office. Your documents will need to send through the post office.
Address: BSTSL Sochib, Hossain's tower(5th and 6th Floor), Plot No: 103 Dhaka-Mymensing Road, Sector: 7, Uttara, Dhaka-1230, Bangladesh.
Necessary Documents for Applying these posts:
All Education Certificates(Must be attached)
Passport Size Photo(3Copy)
Citizenship Certificate
NID photo Copy
Character Certificate
Every District candidates can apply for these posts.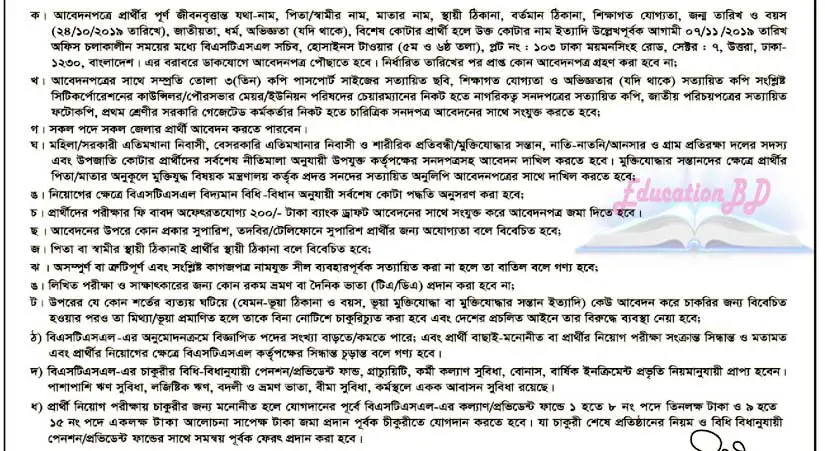 Application Fees: Before application, the application fee will be paid through Bank Draft. The application fees for every post are given below:
All Posts Application Fees: 200TK
Note: Bank Draft copy must be attested by Application.
There is no recommendation for anyone to apply.
BSTSL does not provide any allowance for the written test and Viva. They have the right to change their decision if necessary. If a candidate will select for the job then they will have to submit 3 lakh TK for 1-8 post and 1 lakh TK for 9-15 post. The employee will return their money after retirement with provident fund money.
Thanks to all job seekers for reading this post. Hope this helpful for you.