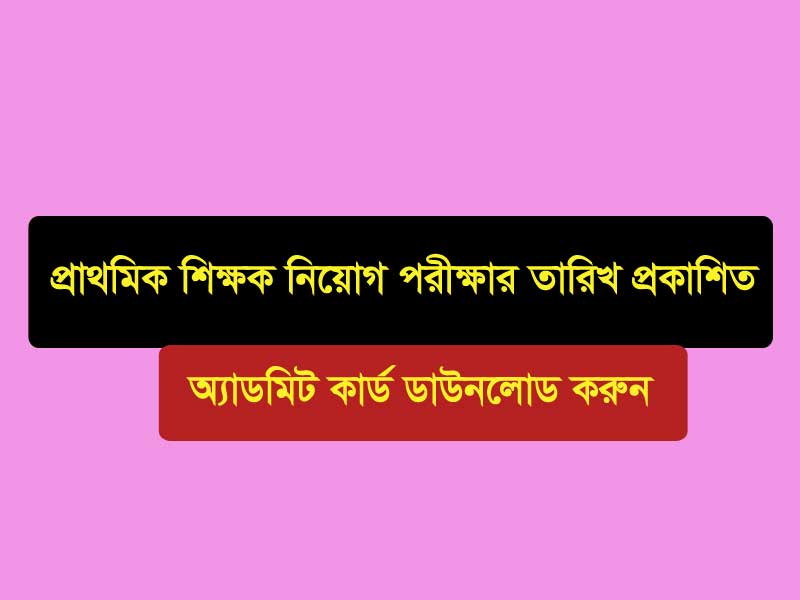 Are you looking for the Primary Assistant Teacher Exam Date 2019 & Admit Card? Then you are in the right place. We are now providing you with the Primary Assistant Teacher Exam Date and Admit card 2019 Download date with full instruction. Directory of Primary Education published Primary Assistant Teacher Job Circular in 2018. After 5-6 months DPE published Exam Date For Primary Assistant Teacher. The Primary Assistant Teacher Exam will start from 10th May 2019. The primary assistant teacher admits card will be available from May 2019. You can download your admit from our Site and also Dpe.teletalk.com.bd
Primary Assistant Teacher Exam Date & Admit Card 2019
Primary Assistant teacher exam date published by the DPE. The exam date is 10th May 2019. At the same time, Primary Teachers recruitment examinations of different districts of Bangladesh will not be held. Different District exam will start on different days. Admit card downloading process will start from May month. In the first week of May, the exam centre list will publish.
Exam Date: 17th May 2019
Admit Card: May First week 2019
Primary Exam Center List Publish Date: May 2019
According to the Directory Of Primary Education, the Primary Assistant teacher recruitment process will applicable by above Date.
Primary Assistant Teacher Exam Date 2019
The primary Assistant teacher job circular published on 30th July 2018 and It continued to 30th August 2018. After 6 months the Exam date of Primary Assistant teacher is published. All primary assistant teacher job seekers are eagerly waiting for their exam date. They took great preparation for an Assistant teacher exam. Finally, The directory of Primary Education Published Exam date and routine for Primary Assistant teacher candidates. According to that Primary assistant teacher job circular, more than 12,000 will be appointed for this post.
Primary Teacher Exam Date 2019
Primary Teacher Exam Date 2019 will hold on the 10th of May 2019. Director General of DPE confirmed Education bd about the Date of Primary Teacher Exam 2019. Check Image for Full Details:
Primary Assitant Teacher Exam 2019
The Directorate of Primary Education said that in the year 2018 a record number of candidates applied for assistant teachers job in government primary schools. More than 2.4 million applications have been submitted online from August 1 to August 30 last year. The number of applications according to the Division of Bangladesh will highlight.
Dhaka: 4,52,760
Chattogram: 3,82,335
Rajshahi: 3,62,925
Khulna: 2,48,730
Barisal: 2,55,827
Sylhet: 1,20,623
Rangpur: 2,94,368
Moymonsing: 2,82,437
প্রাথমিক শিক্ষা অধিদপ্তর কর্মকর্তারা জানান, সর্বশেষ নিয়োগে প্রায় ১২ লাখ প্রার্থী আবেদন করছিল। এই হিসেবে আবেদনকৃত প্রার্থীর সংখ্যা দ্বিগুন। গত নিয়োগে সারাদেশে পরীক্ষা কেন্দ্রের সংখ্যা ছিল 3,662। এবার দ্বিগুন প্রার্থী হওয়ায় কেন্দ্রের সংখ্যা বৃদ্ধি করা হয়েছে।
For the exam questions do not leak, so this time 20 set questions will make. And the DPE will decide one set from 20 sets on Exam day. The exam will happen in 2 steps. They are
Writing Exam (MCQ-Multiple Choice Question)
Viva Exam.
After MCQ exam qualified candidates will be selected for viva. The exam will happen on 3 different Dates. Because the test cannot be taken simultaneously throughout the country.
Primary Assistant Teacher Exam Date: District Wise
The test will happen in three or four days. So, each district will have different dates for the exam. Below is the date of the district's wise test: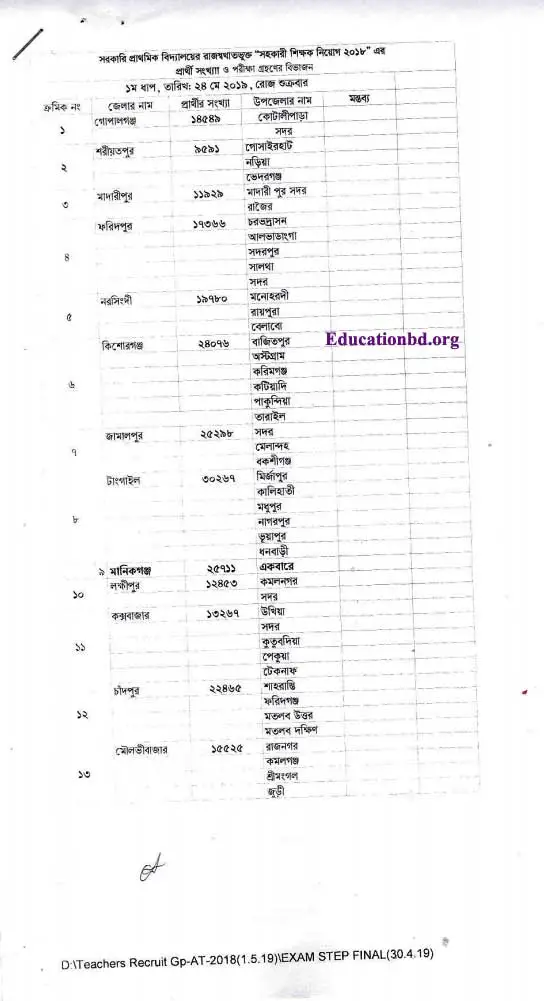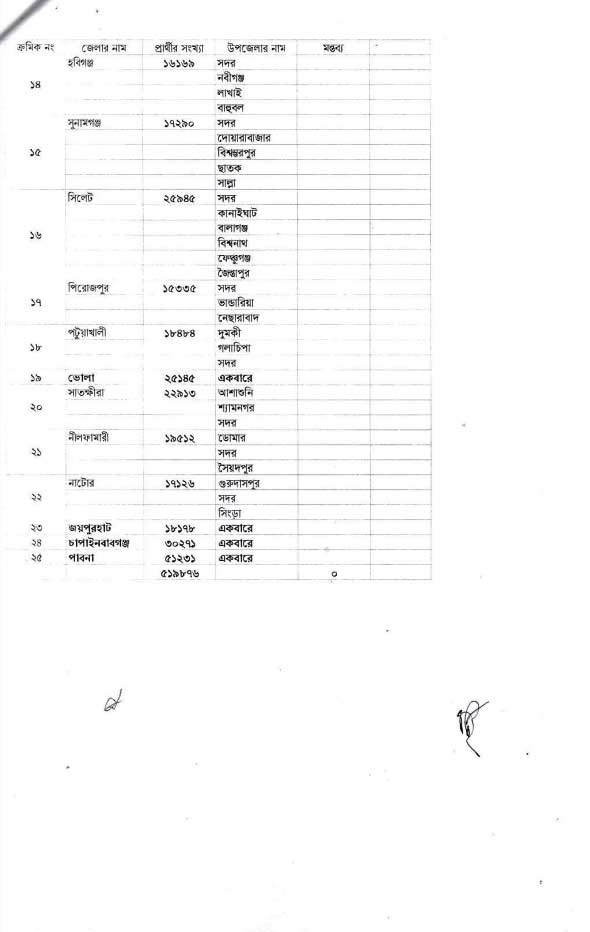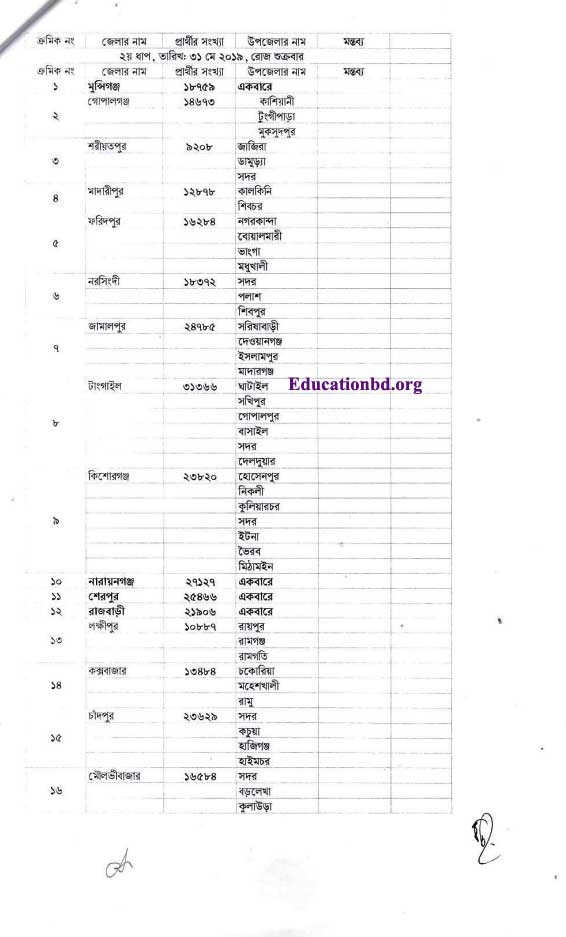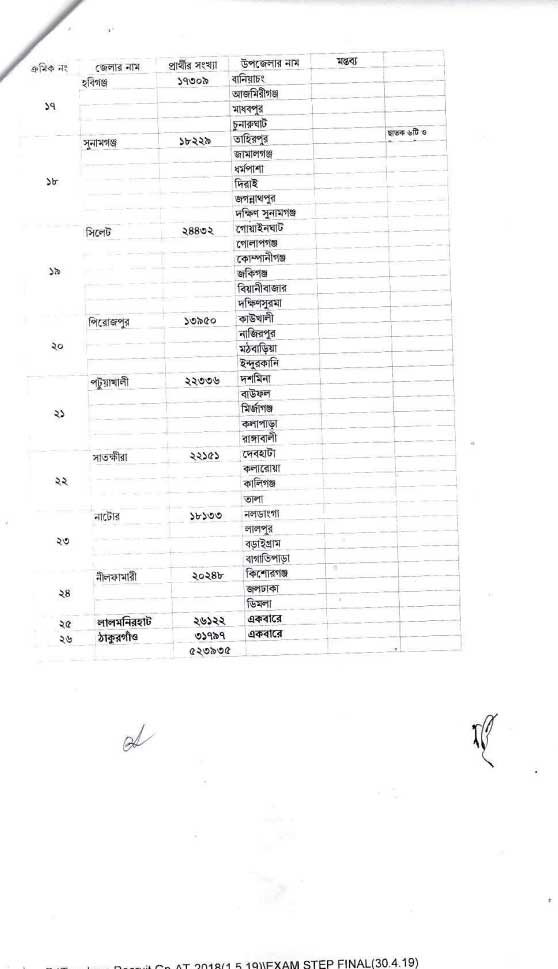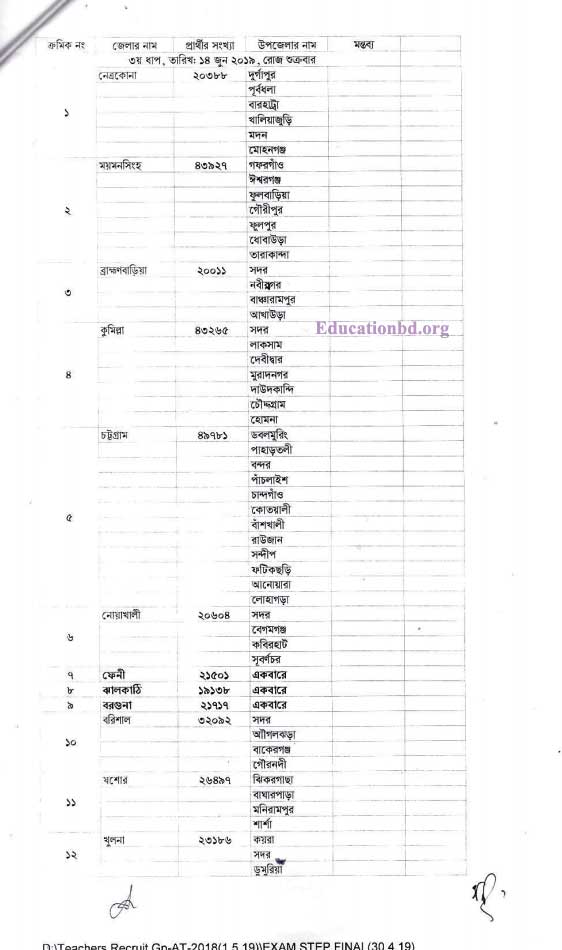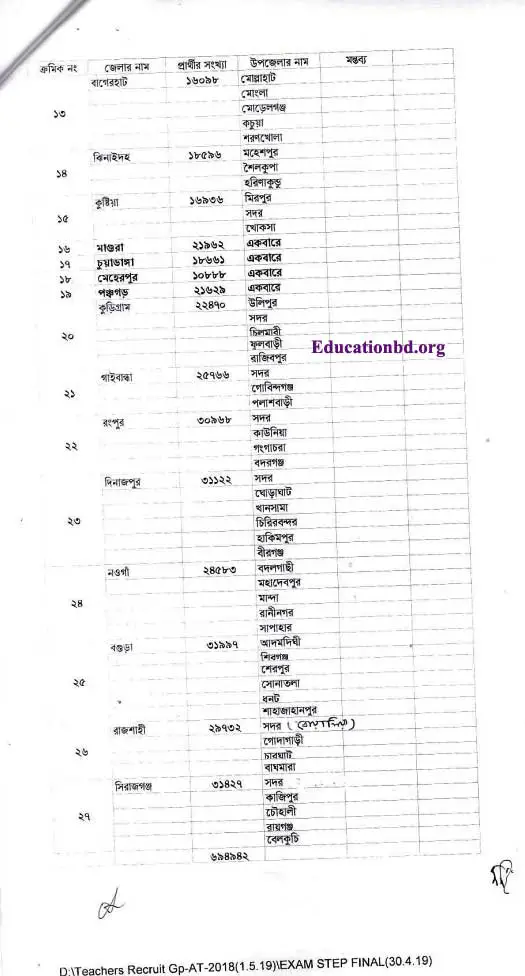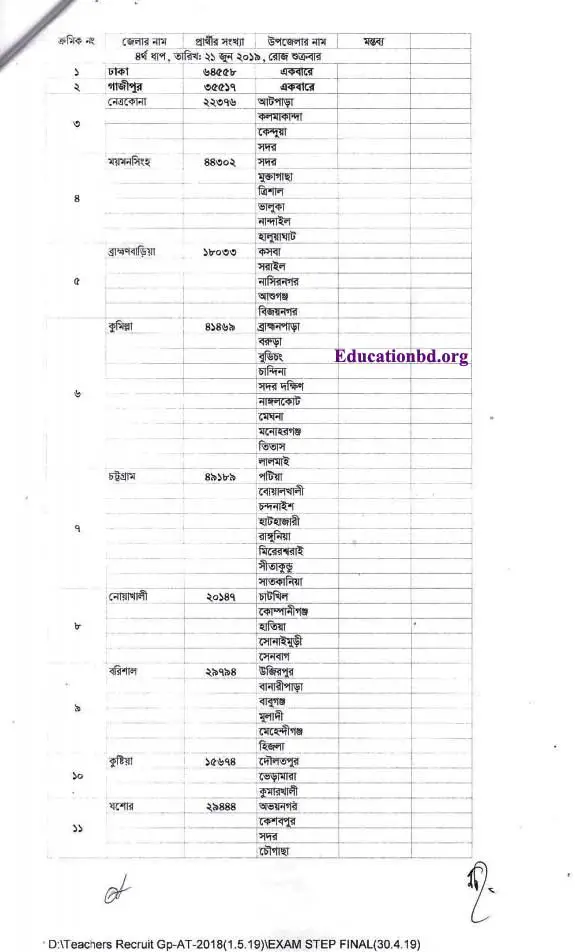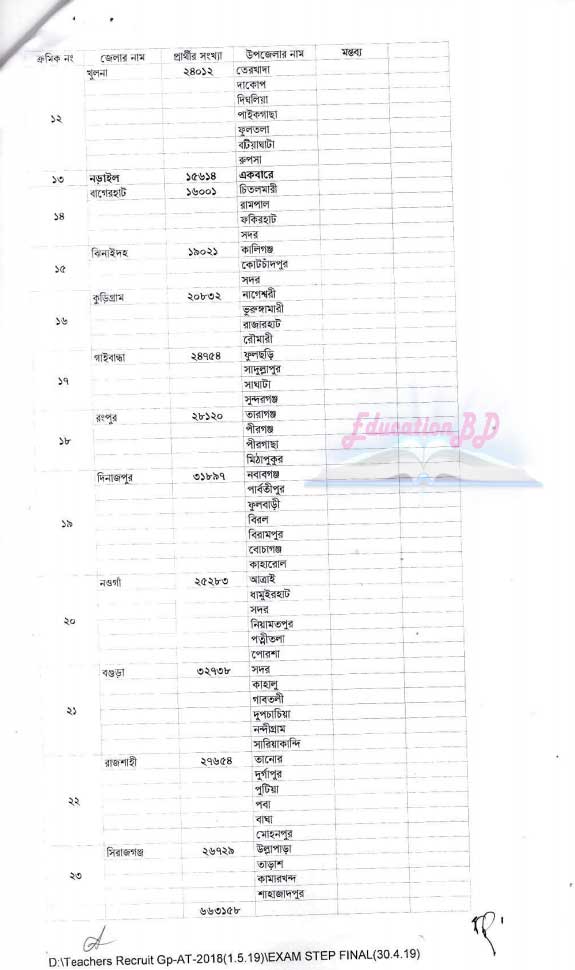 প্রাথমিক শিক্ষক নিয়োগ বিষয়ের সকল সঠিক তথ্য পেতে আমাদের গ্রুপে জয়েন করুন।
Primary Assistant Teacher Job Circular 2018
Check out Primary Assistant Teacher Job circular 2018. You will the information about Primary Job. Its a dream job for All women and men nowadays. The salary also increasing Day by day.
Thanks For being here. Hope this post helped you. If you have any question then comment here or join our Facebook group.