National University Corona Vaccine Registration 2021 is now available on NU's official website and Education.org. You are welcome to covid-19 vaccine registration from the national university Bangladesh. National University is one of the largest universities in Bangladesh. More than 30 lakh students are studying here. Because of the Pandemic of Corona, the total number of colleges under the National University is switched off. Only students are mostly suffering from Corona Pandemic. SO the authority of NU decided and started NU Corona Virus Registration 2021. After covering vaccination the colleges will be opened. So it is a great step for the students.
National University Covid-19 Vaccine Registration Date
The effect of the Corona virus in Bangladesh is increasing day by day. So it is very necessary for every student and person must get the vaccine. In its continuation, the National University is starting registration for the corona vaccine.
National University Covid-19 Vaccine Registration Apply Date: 8th July
Application End: 12th July 2021
All the process of NU covid vaccination is online. So you must fill your form by given rules and regulations
NU Covid Vaccine Registration Notice 2021.
You can download the NU Corona Vaccine Registration notice from the National University official website as well as EducationBD. Download your NU Covid Vaccine Registration Notice 2021 in image or PDF format.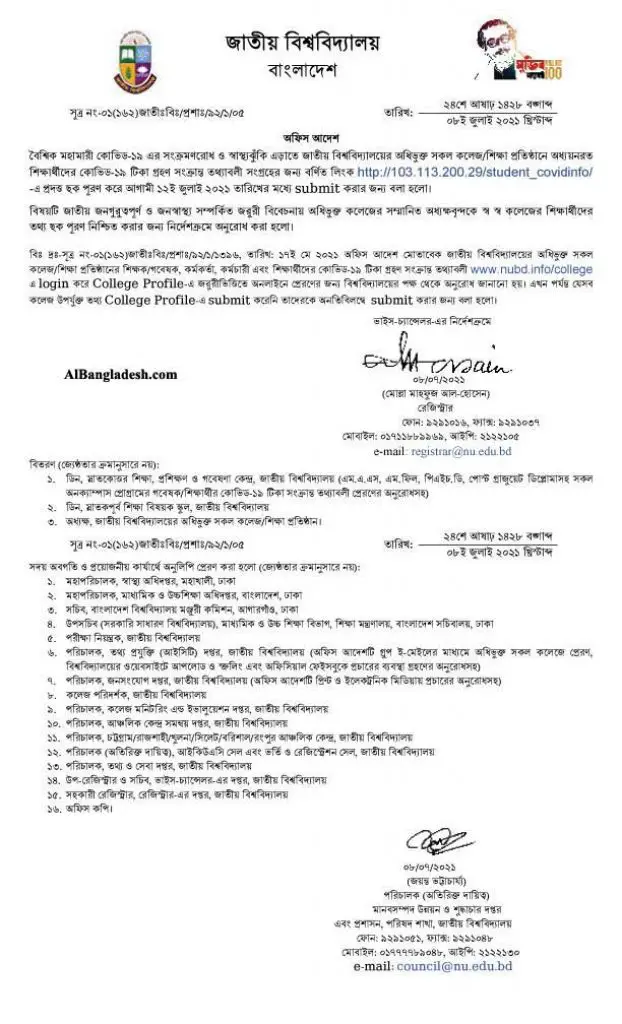 How To Register For NU Corona Virus Vaccine?
NU Students have already started registration for the Corona vaccine. Those who don't know how to register then follow the below steps:
First Step: First go to: 103.113.200.29/student_covidinfo/
You will get a page like this: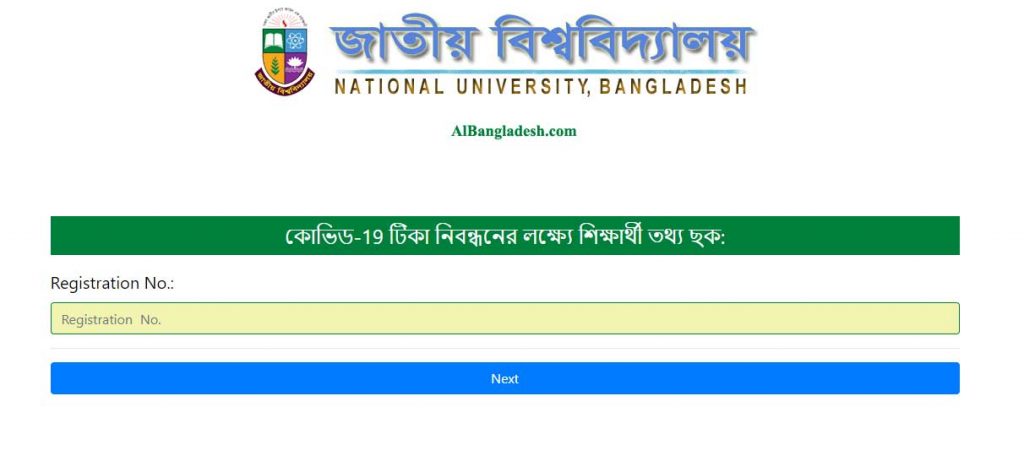 Second Step: Provide your Registration No into the box. And Click Next.
After that, you will get a page like this where you can check your Name, Father name, mother name, institution and other Info.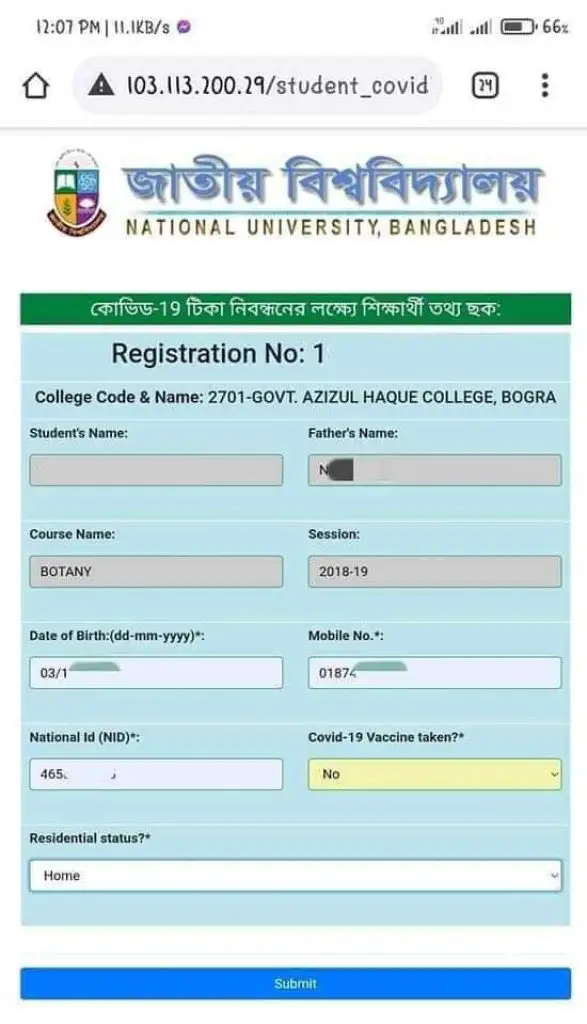 Final Steps: Provide your info:
Date of Birth
Mobile Number
National ID
No
Select the place where you want to get the Vaccine.
Click on Submit to complete the Registration. And Print the Document.
NU Corona Vaccine Registration Date Not Found
A huge number of students are facing this problem after submitting their registration no. If you are a student of Masters season 18-19 then you can't register now. Because NU didn't provide you with the Master's Registration NO. So you have to wait for your date.
If any problem with your NU Corona Vaccine Registration Online Email them: formfillup.nu@gmail.com
Thanks for being here. We wish you good luck with your vaccine. Check Nu form Fill up info