Welcome to 17th NTRCA Circular 2020. Department Non-Government Teachers Registration & Certification Authority of Bangladesh publishes an NTRCA Circular 2020 circular for Bangladeshi Citizens. NTRCA publishes circular for forty different posts. Candidates can apply for these posts easily from our site. If you are professional and motivated to build a successful career with the great profession in the teaching of Bangladesh, then this 17th NTRCA circular 2020 is the best for you.
Department of Department Non-Government Teachers Registration & Certificate Always Works for people who want to become a teacher. They are making youth self-reliant. NTRCA provides its service to all the districts of Bangladesh.
17th NTRCA Circular 2020
Published on: January 23, 2020
Vacancy: 39(Different Posts)
Job Type: Government Job and Non-Government JOb
Employment Status: Full-time
Experience: No
Gender: Both
Age: Age 18 to 30 years
Job Location: Anywhere in Bangladesh
Apply Start: 23rd January 2020
Application Deadline: 12th February 2020
The NTRCA will be recruiting peoples for 39 different posts. The posts are:
Assistant Teacher(Different Subject)-School Level
Computer Trainer
Assistant Moulvi
Ebtedayee Chief
Trade Instructor
Lecturer(College)
Instructor(Different Subjects) etc.
The NTRCA will provide you with a good salary according to the different salary scales.
17th Shikkhok Nibondhon Exam date 2020
১৭তম শিক্ষক নিবন্ধনের  প্রিলিমিনারি ও লিখিত পরীক্ষার স্থগিত করেছে বেসরকারি শিক্ষক নিবন্ধন ও প্রত্যয়ন কর্তৃপক্ষ (এনটিআরসিএ)। আগামী ১৫ ও ১৬ মে ১৭তম শিক্ষক নিবন্ধনের প্রিলিমিনারি পরীক্ষা ও আগামী ৭ ও ৮ আগস্ট লিখিত পরীক্ষা অনুষ্ঠিত হওয়ার কথা ছিল। করোনা ভাইরাস সংক্রমণ রোধে লকডাউন চলমান থাকায় পরীক্ষা স্থগিত করা হয়েছে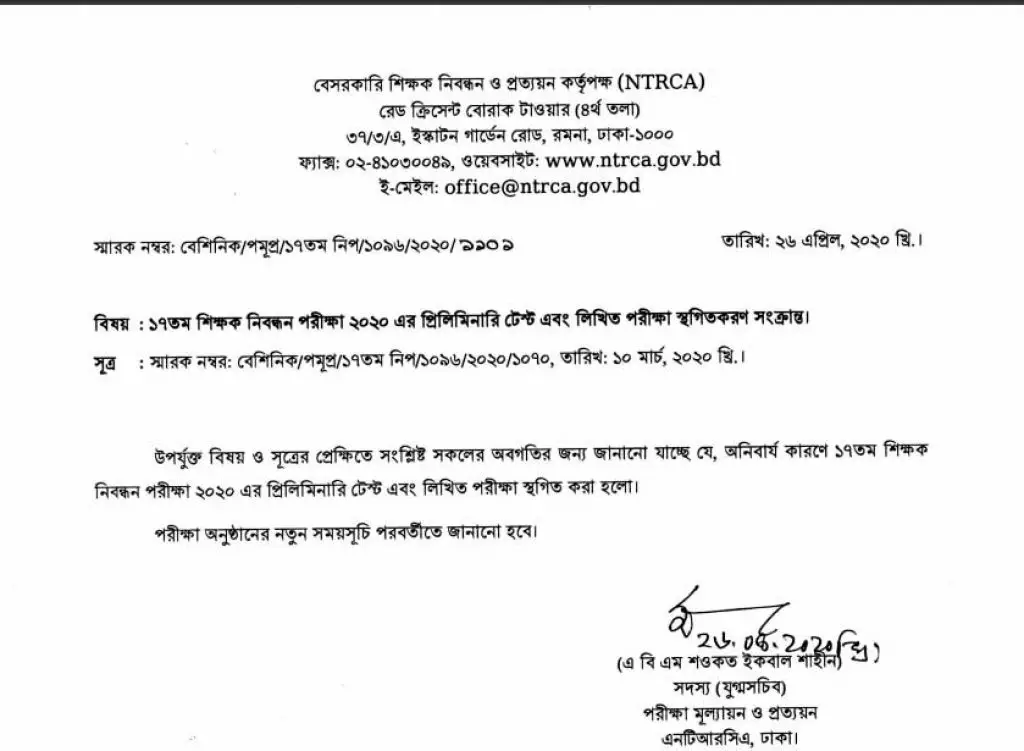 Shikkhok Nibondhon Circular 2020
Check Image to know about full details about the NTRCA Job circular 2020. You will get the full information from this photo.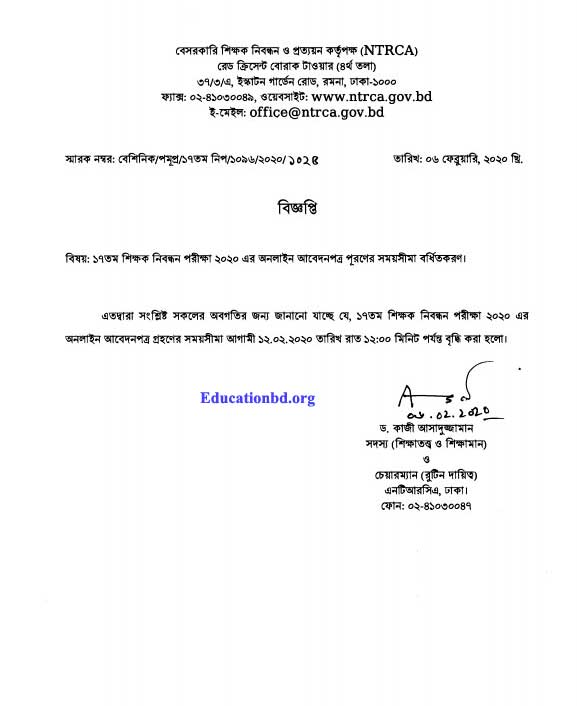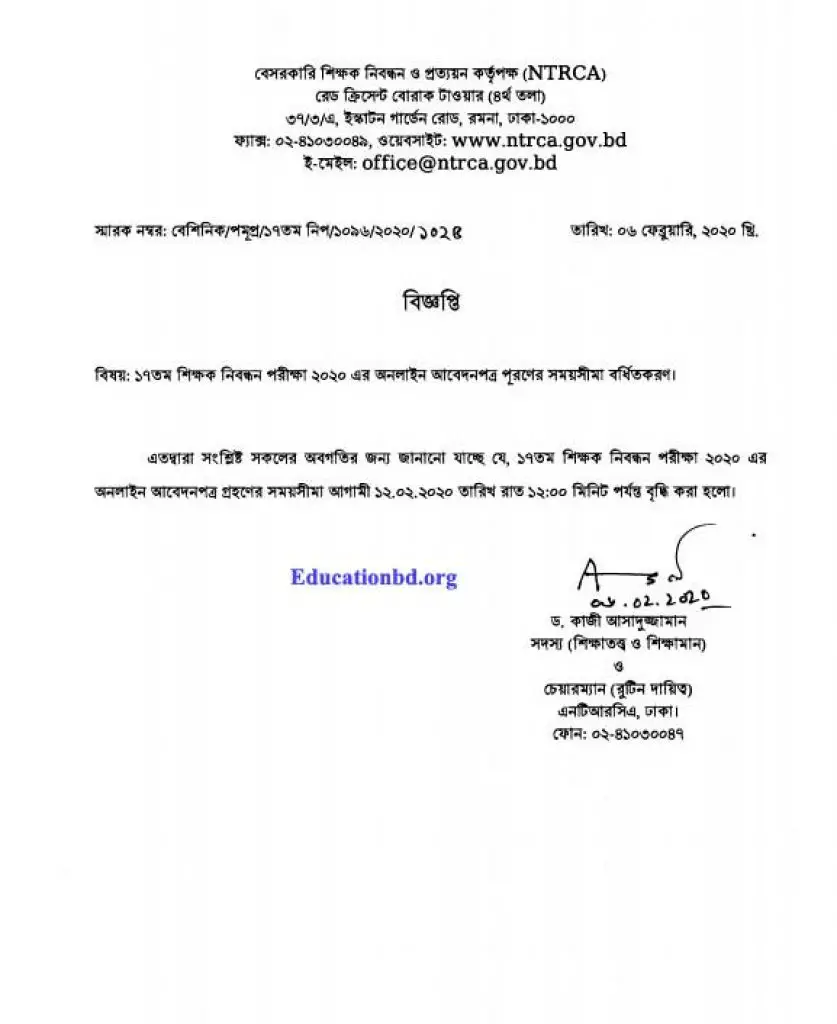 Extend Time: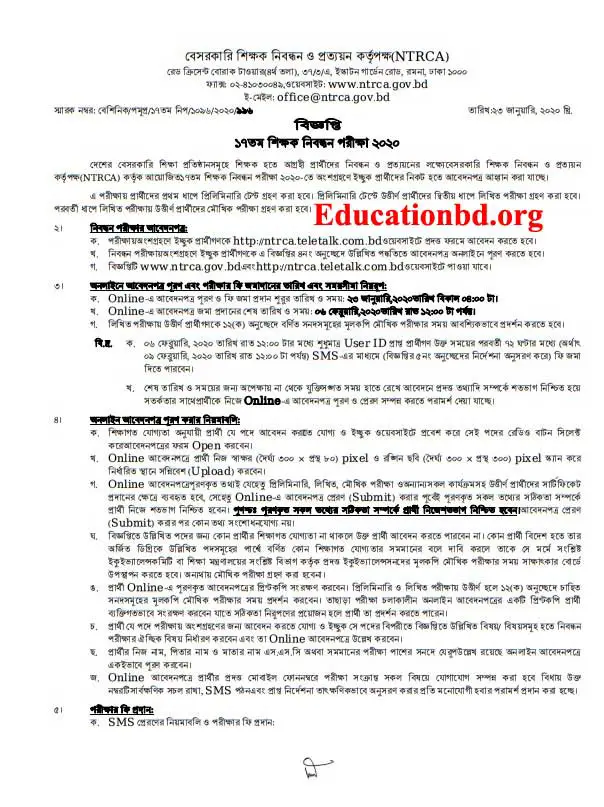 17th NTRCA Job Circular Post List and Subjects
School Level Job: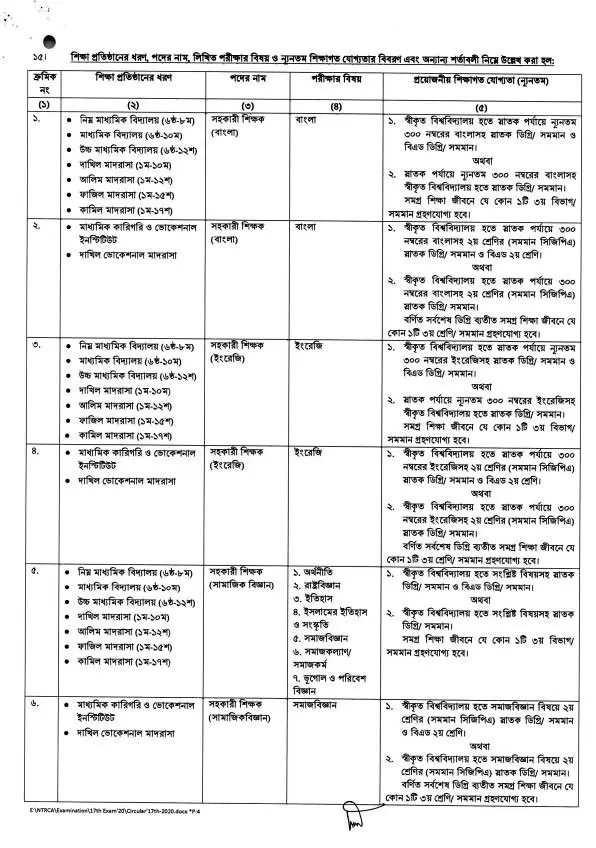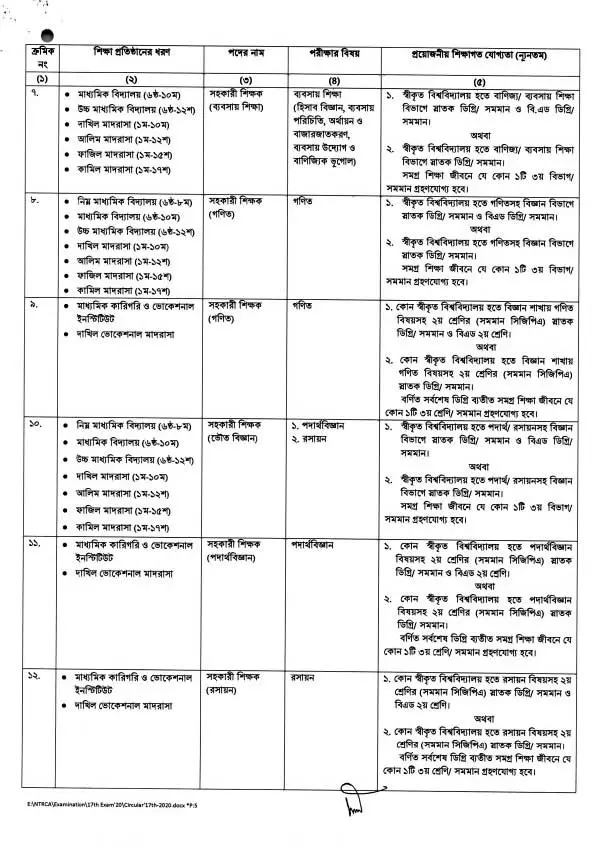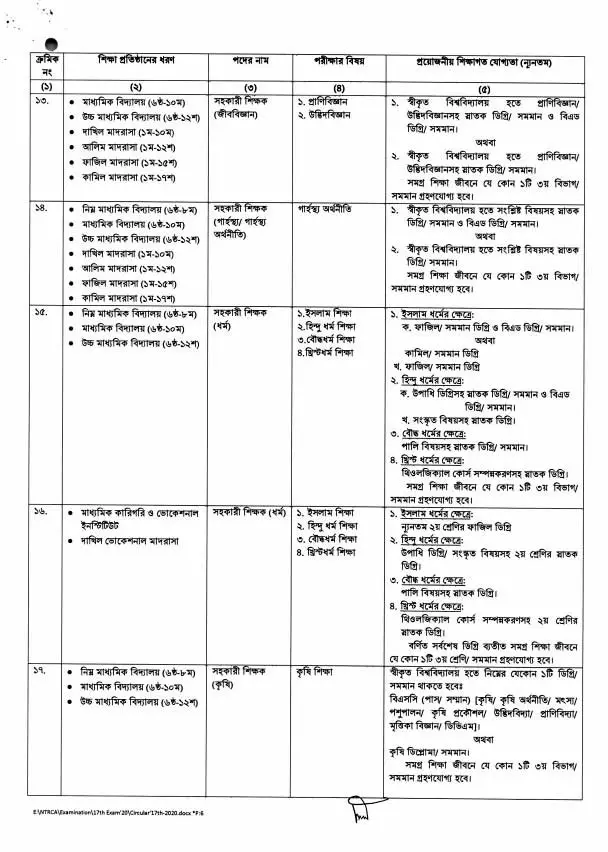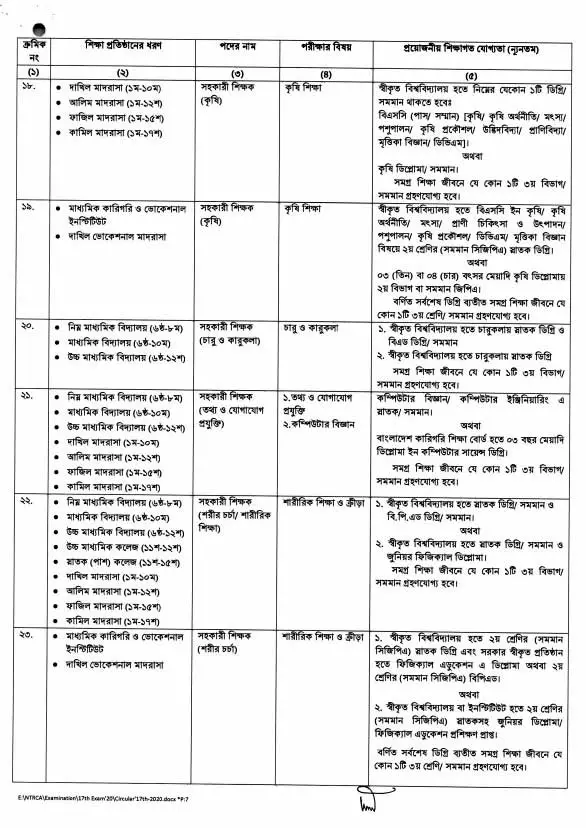 NTRCA College Level Job List: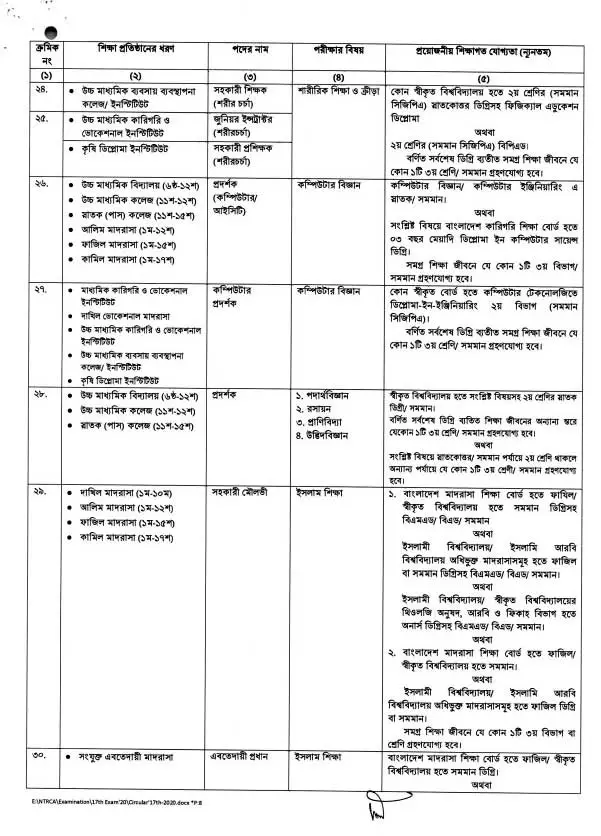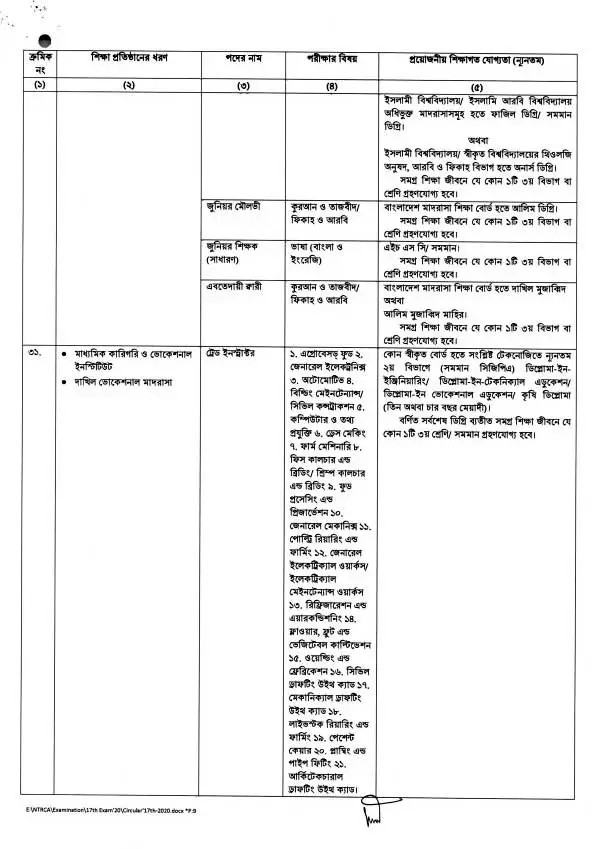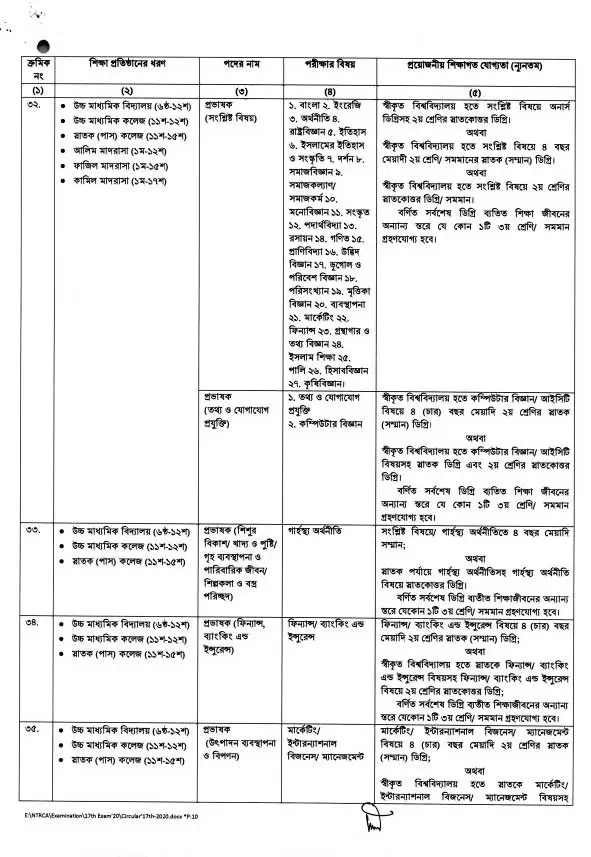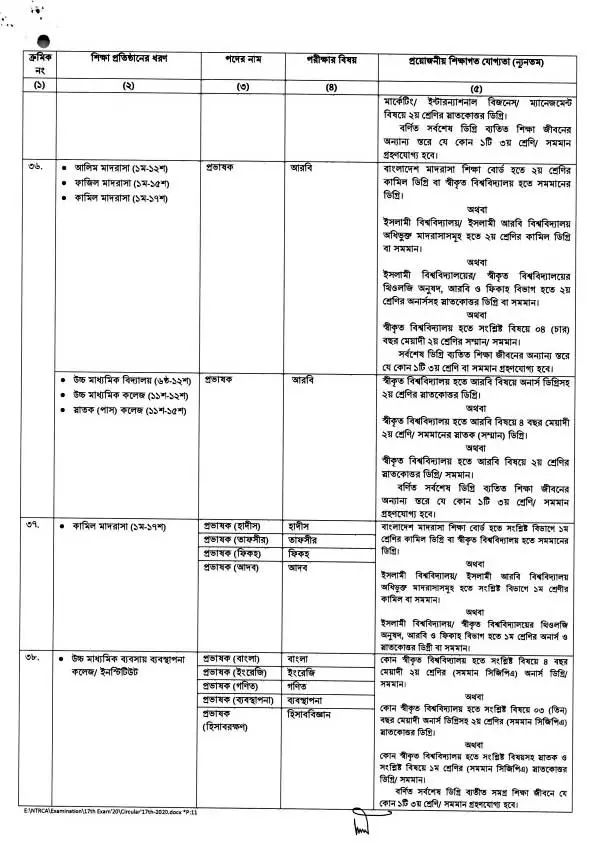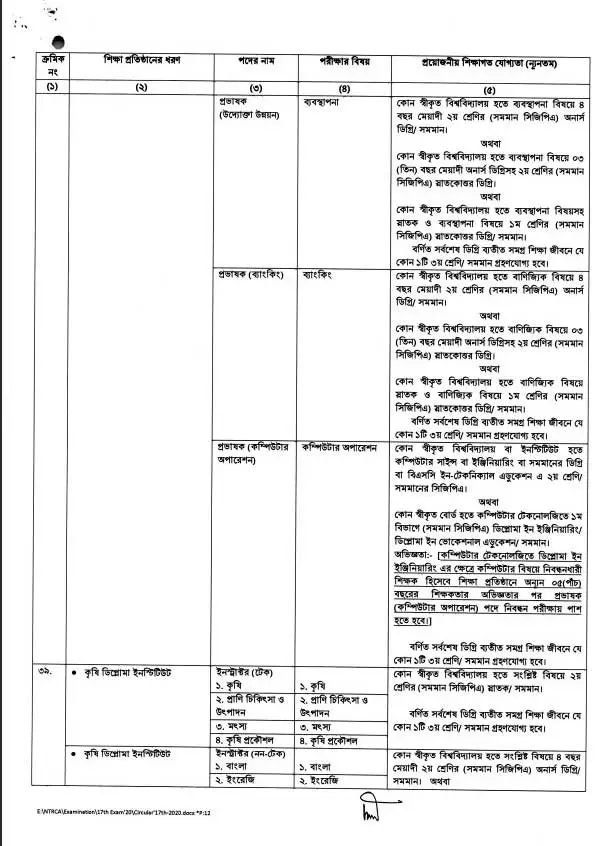 Education Qualification: See the above image to get clear instructions about qualifications for Different posts.
NTRCA Job Apply Online
First Go to Ntrca.teletalk.com.bd/apply.php
Select Your Desired Post.
Fill the full form giving your information.
Upload Your photo(300*300 Pixel) and signature(300*80).
then click on Submit
User ID will be given after applying.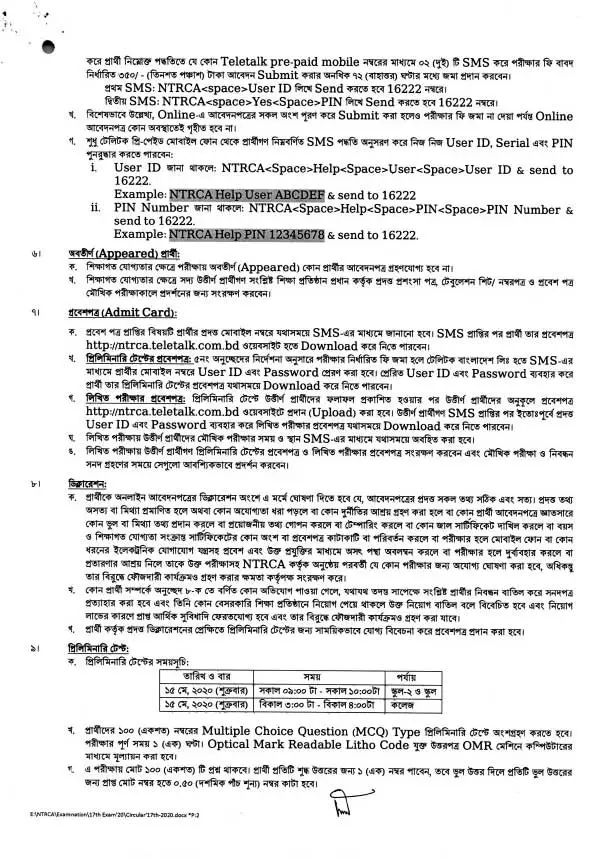 Application Fees: After application, the application fee will be paid through Teletalk SIM. The application fees for every post are 350TK
Payment Method of Paying Application Fees in NTRCA
1st SMS:: NTRCA<Space> User ID and Send To 16222
Example: NTRCA ABCDEF
From NTRCA Reply: Applicant's Name, TK 350 Will be charged as application fee, Your PIN is 1235678. To pay fee Type NTRCA Yes PIN and send it to 16222.
2nd SMS: NTRCA<SPACE> YES<Space> Pin No and Send To 16222.
NTRCA Reply: Congratulations Applicant's Name, Payment completed
successfully for DYD application for post Name
is(ABCDEF) and password (Your Pass).
The next SMS will give a password to the candidate. The pin must be kept carefully because It will need to download the admit card online.
17th NTRCA Exam Date
The Non-Government Teachers Registration and Certification Authority always publish their circular with the exam date of Shikkhon Nibondhon. So we can easily tell that the exam date of 17th NTRCA Preliminary and written.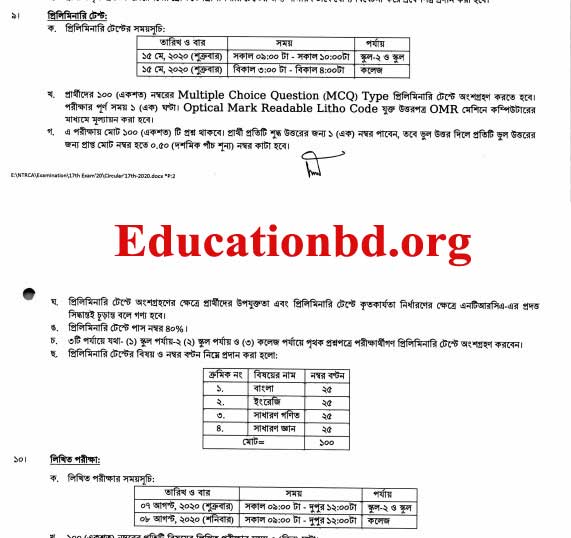 17th NTRCA Preliminary Exam Date: The 17th NTRCA Preliminary Exam date 2020 is the 15th of May 2020.
School Level and School Level-2 Time: 10 AM
College Level Time: 3 PM
17th NTRCA Written Exam Date: The 17th NTRCA Written Exam date is 7th August and 8 August.
School Level and School Level-2 Date and Time: 7th August 2020 at 9 AM
College Level Date and Time: 7th August 2020 at 9 PM
The exam duration will be mentioned in the question paper. We provided the 17th NTRCA marks distribution to the above image.
Thanks for reading this post and if anything wants to know then comment here.
Check JBC Job circular 2020.