Welcome to Shab E Meraj 2022: Date History and Prayers. As a Muslim, Everybody must know the History of Shab E Meraj. Shab E Meraj is a significant day for Muslims. On the 26th day of the ninth month of Hijri, Meraaj held. Lailatul Meraj in Islam religion or night of Meraj, which is commonly termed as Shab E Meraj, is that night the Prophet Muhammad (peace be upon him) of Islam ascended the divine way. That night He met the creator. Muslims celebrate this Meraj night through worship and worship.
On this night, Allah has shown His beloved Prophet Muhammad many things. In which there are many divine facts and history beyond common knowledge. The Prophet Muhammad (peace be upon him) brought five prayers daily for the Muslims on this night.
Shab E Meraj 2022 Date in Bangladesh
Shab E Meraj 2022 Date is 28 February 2022. This year Muslims will celebrate the day with lots of love and devotion. This Day is a public holiday in Bangladesh and other Islamic countries. Take a look at the table below on the day of the Shab-e-Meraaj celebration of the previous years and When Shab-e-Meraj will celebrate in 2022
Shab E Meraj Hijri Date is 26th of Rajab.
History of Shab E Meraj
On the 26th of the month of Rajab, the prophet Muhammad (peace be upon him) went to Baitul Mukaddas or Mosque in Aqsa, from Kabah Sharif. There he used to be the Imam of the Prophets. Then he went on a special vehicle called Borak and went to the sky. Check Steps by Steps History of Shab E Meraj.
After completing prayers with all the prophets, Jibrail A. arrange water, milk and honey for our Prophet. The prophet Muhammad took the milk. As a result of drinking milk, Jibril said: 'You have won over Fitrata. If you used to drink water, your community would have been in danger.
Hazrat Adam Alaihis Salam's meet:
Prophet Mohammad reached the first sky from the earth and saw a man named Hazrat Adam (A.). The Prophet saw that when Adam A. saw on the right, he smiled and when he looked towards the left, he cried. Then Jibrail (A) answered for Prophet questioned, that this man is Hazrat Adam Alaihis Sallam. He smiles on the right side of Heaven people. And on the left side, crying out of the hellfire
The Prophet (peace and blessings of Allaah be upon him) knew the consequence of the forbidden eater, Adulterers, eating interest, Guilty.
Then The Prophet (peace and blessings of Allaah be upon him) met Hazrat Yusuf Alaihis Salam in the second sky, Hazrat Yahya and Zakaria Alaihis salam in the third sky, Hazrat Idris Alaihis Salam in the fourth heaven, Harun Binu Imran Alaihis Salam in the fifth sky and Mosa Ibn Imran Alaihis Salam in the sixth sky. Then he met with Hazrat Ibrahim Alaihis Salam in the seventh heaven. After that Prophet Mohammad(SM) saw Jannat and Jahannam.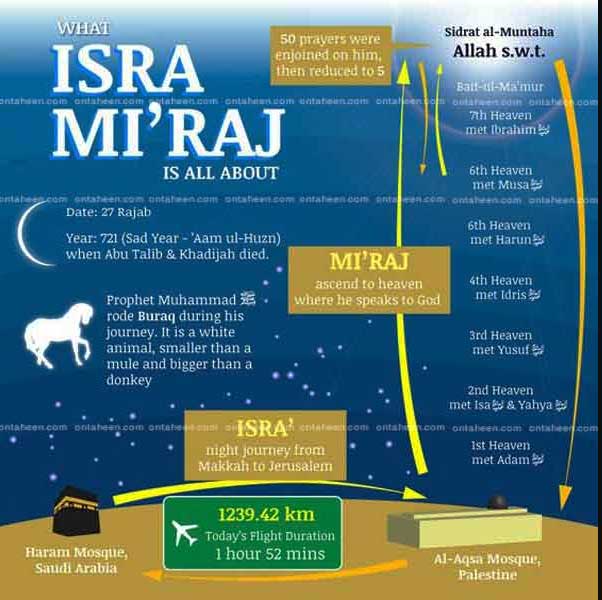 Shab E Meraj Prayers
All the prayers of Shab E Meraj are NAFL. At last Prophet Mohammad (SM) met Almighty Allah(SWT) and got 5 times prayers for us.
Muslims can perform 12 Rakats NAFL prayers in Shab E Meraj.
While performing Salat recite the Surah Fatiha(1 Time) and Surah Ekhlas (3times) and Surah Kafirun (3times).
The following prayers are good after finishing the salam.
Recite 100 Times: 
Subhanallahi wal humdu lillahi wa la elaha illal lahu walllahu akber.
Astaghfirullaha rabbi min kulli zunbin wa atbu elaihi.
Darood Sharif
Then Pray to Almighty Allah for yourself, your family and All Muslims in the world. After that Shab E Barat and Ramadan will come.
Shab E Meraj In India
The holy Shabar Meraaj will be celebrated in India and on March 21(26 Rajab). Muslims of India celebrate Shab-e-Meraaj with many love and Prayer every year. Most of the Muslims of India as well as all over the world will pass the whole night by reciting the holy Quran as well as Nafl Salah. This night Muslims Pray to Allah for their sins. In Islam, this night is considered to be the holy night of acceptance of worship and prayer. On the occasion of holy Shab E Meraj, the Muslims of the world distribute Nuffal prayers, Zikir-Askar, Quran recitation, Darud lessons, special prayers, and titles.
Shab E Meraj Photos
Here are some Shab E Meraj Photos for All Muslims in the world. You can use these photos for your social Cover or Profile pic.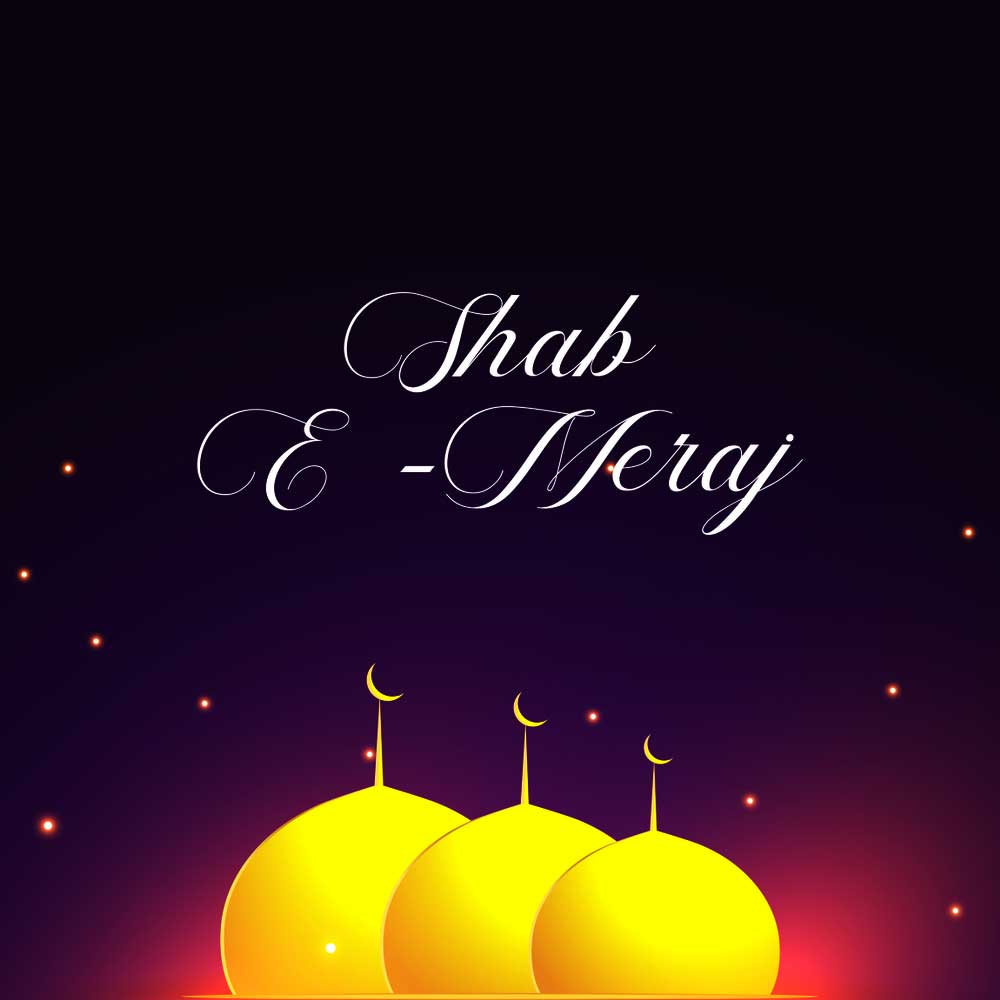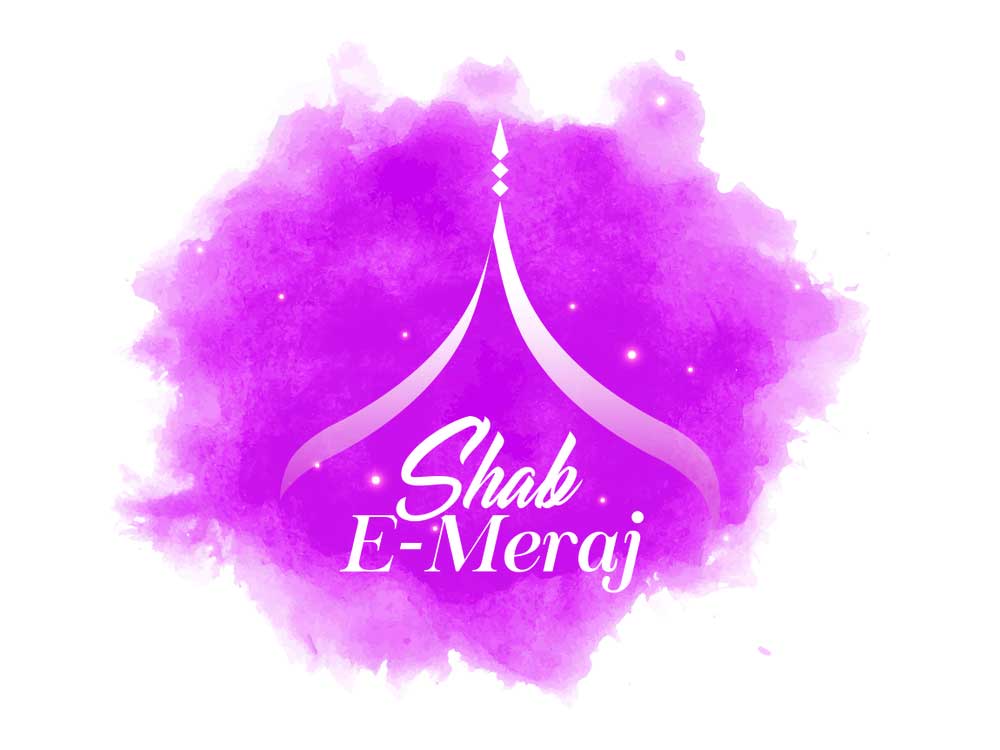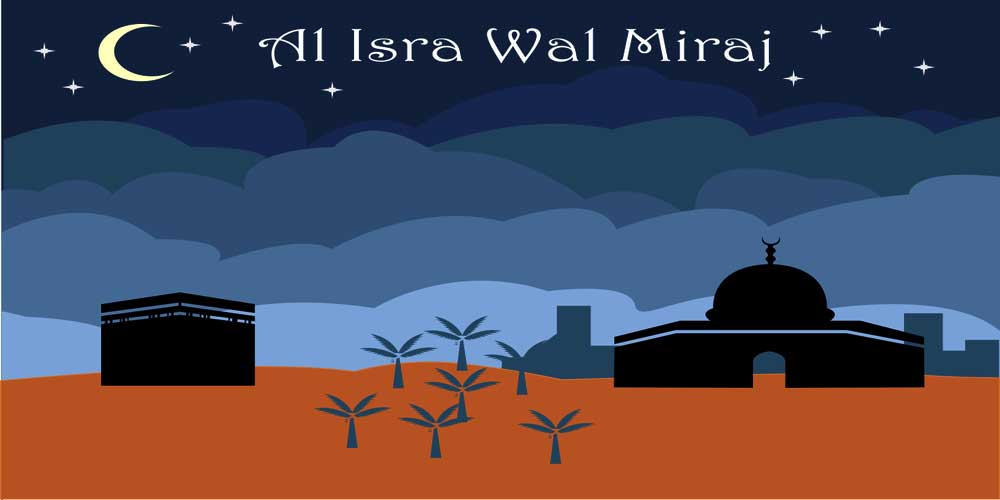 If you like this post, share it with friends on different social sites. Education BD wishes you Advance Shab E Meraj Mubarak.