Are you searching for the Bangladesh Post Office Job Exam Date, Seat Plan & Admit card 2022? Then you are in the right place to collect your information about the Bangladesh Post Office job. Bangladesh Post Office is a well-known government organization all over Bangladesh. The DGBPO authority created a lot of vacancies for the people who are national citizens of Bangladesh. So you have a chance to get your career as an employee of Jiban Bima Corporation Bangladesh(DGBPO). The Exam Date of Bangladesh Post Office's job 2022 will be available soon on our website. When it is available, you can download the image from here.
After declaring the exam date, the authority of the Bangladesh Post Office will publish the DGBPO Admit Card 2022 for the candidates who applied for the different posts of this Government organization. And one more thing you will get from our website is Bangladesh Post Office Exam Seat Plan 2022.
DGBPO Exam Date 2022 Short Info
You can check here short info about this job of DGBPO.
| | |
| --- | --- |
| Exam Date | 21 May, 28 May And 4th June 2022 |
| Time | 3-4 PM |
| Circular Published Date | 11th July 2021 |
| Online Application End | 11th August 2021 |
| Exam Type | Written |
| Job Type | Government |
| Vacancy | 269 |
DGBPO Job Exam Date 2022
Bangladesh Post Office Corporation publishes the exam date for the upcoming job exam. We are now giving you all the required information for the DGBPO Exam date 2022. The DGBPO Exam will be held on 21 May, 28 May and 4th June 2022. Bangladesh Post Office published a notice on its official website http://www.bdpost.gov.bd/. You don't go anywhere to check the notice of the DGBPO exam date 2022. You can below image for the upcoming Bangladesh Post Office exam date 2022.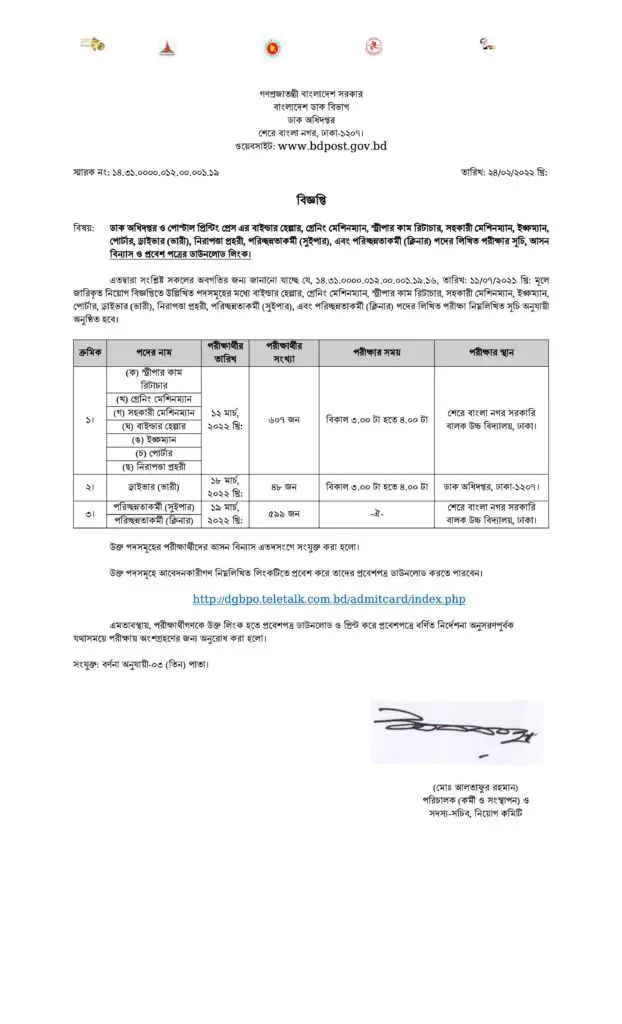 বাংলাদেশ ডাক বিভাগ
☞ পদঃ অফিস সহায়ক
☞ পরীক্ষাঃ ২১মে, ২০২২ (বিকাল ৩.০০-৪.৩০)
☞ পরীক্ষার ধরন- #MCQ
নোটঃ MCQ-তে পাস করলে ভাইভা।
বাংলাদেশ ডাক বিভাগ
☞ পদঃ অ্যাকাউন্ট অ্যাসিসটেন্ট
☞ পরীক্ষাঃ ২৮ মে,২০২২ (বিকাল ৩.০০-৪.৩০)
☞ পরীক্ষার ধরন- #MCQ
সময়- ১ ঘন্টা
নোটঃ MCQ-তে পাস করলে ভাইভা।
বাংলাদেশ ডাক বিভাগ
☞ পদঃ জুনিয়র অ্যাকাউন্টেন্ট
☞ পরীক্ষাঃ – ৪ জুন,২০২২ (বিকাল ৩.০০-৪.৩০)
☞ পরীক্ষার ধরন- #MCQ
নোটঃ MCQ-তে পাস করলে ভাইভা।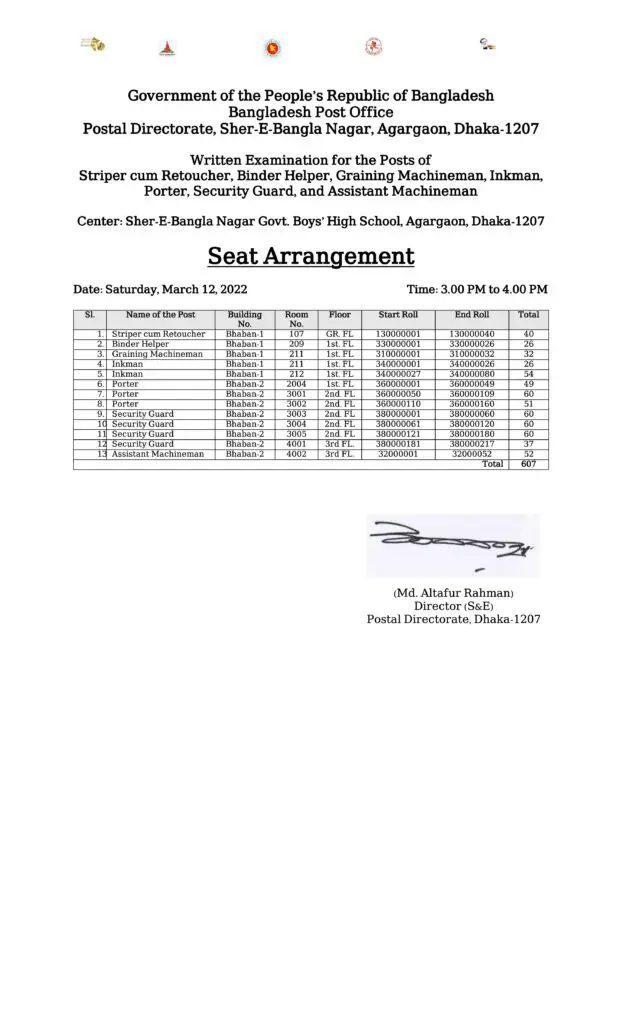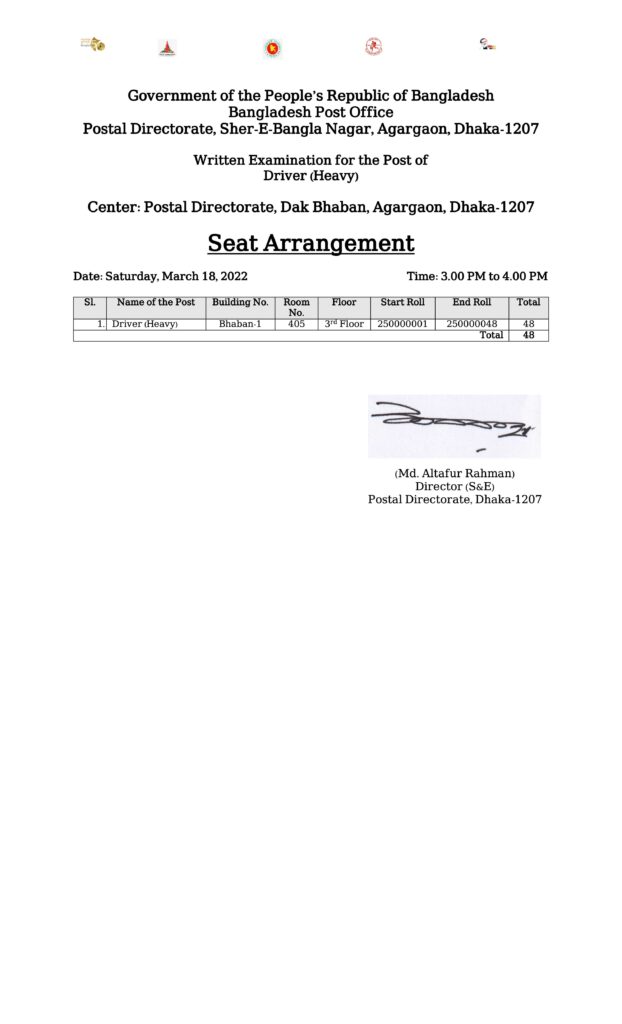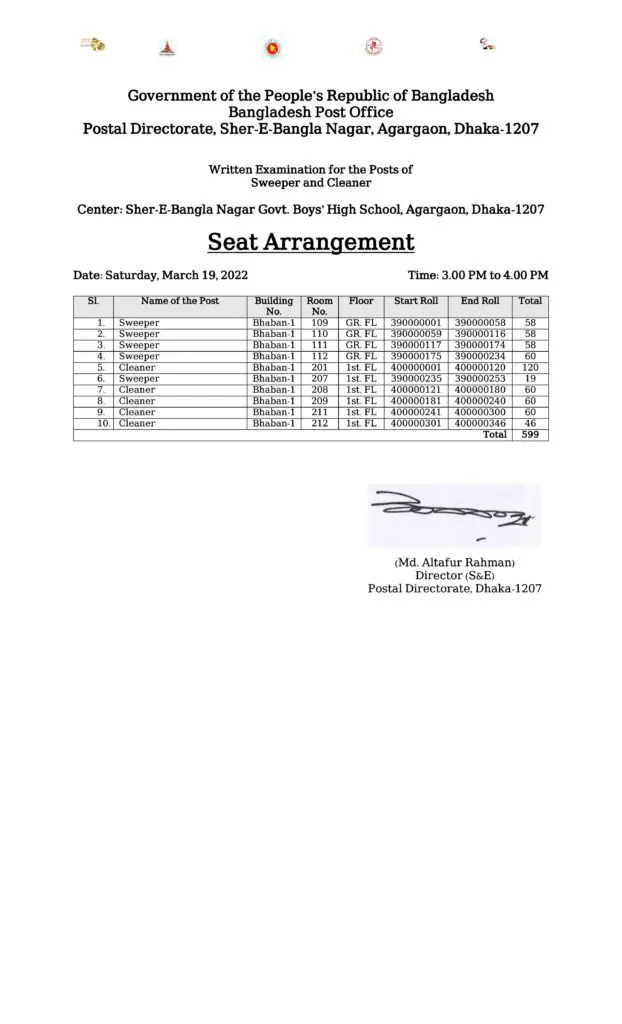 Bangladesh Post Office Admit Card Download 2022
DGBPO admit will be available whn the date is published by authority. So we can say that DGBPO Admit Card 2022 is now available on our site. You can follow the links and now we are going to show you how to download your admit card. First Visit: http://dgbpo.teletalk.com.bd/admitcard/index.php. You will get a page like below: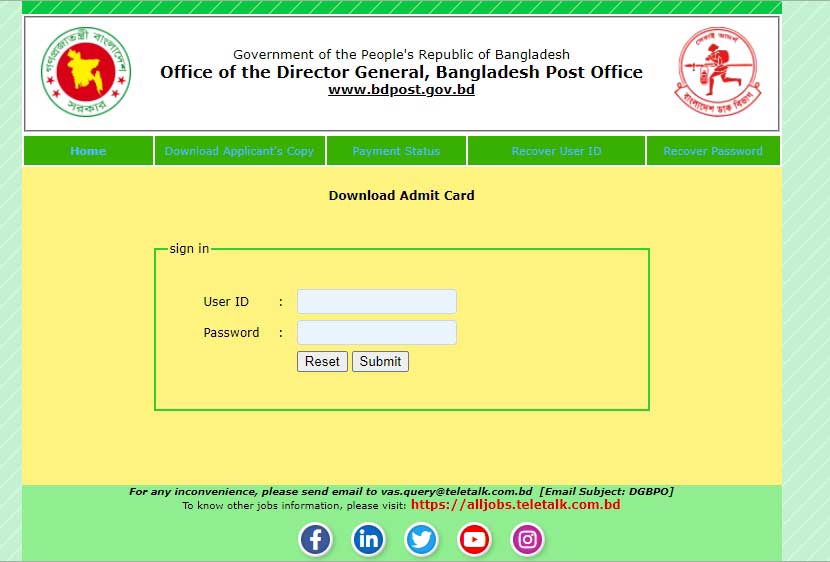 Provide your User ID and Password
Then Click On Submit.
Note: Admit Card Must Be Color printed.
DGBPO Seat Plan 2022 Download
DGBPO seat plan will also available when the date is declared. Seat plan will help to know about your center and sitting before exam. You can easily get it from our site and Bangladesh Post Office Official website. Download your DGBPO seat plan 2022 from Below:
Check Bangladesh Post Office Circular
Many job seeker will search main circular after publishing the exam date. Only For your comfort, we have included the orginal circular with this post of DGBPO. Let's check the circular below:
Thanks for visiting our site. Is anything Wants to know then Join Our Facebook Group: EDUCATIONBD.