Welcome to BOU SSC Admission 2022. This admission circular only for the students who want to complete their secondary education under Bangladesh open university. BOU SSC Admission 2022 will publish soon for the session 2022-21. Bangladesh open university SSC admission 2022 will start from October and it will continue to January 31, 2022. The Admission circular for SSC admission will be published in March. So students need to wait for it. Students will have to fill their admission form in different study centers and after they have to submit their desired college.
BOU SSC Admission 2022
Apply Start: October 2019
Apply End: 31st January 2022
The admission form must be collected from any regional center of Bangladesh's open university for admission. Students can collect all the information from the BOU regional center. What is the requirement for BOU SSC admission? Let's Check-
JSC or Equivalent Exam Pass
Must Be Citizen Bangladesh.
Interested candidates can also collect their admission from BOU official site. In this case, They need a 100TK bank graft in the local Sonali Bank.
BOU SSC Admission Notice
যেকোনো তথ্যের জন্য ফেসবুক গ্রুপে জয়েন করুন।
লিঙ্ক: https://www.facebook.com/groups/educationbd2/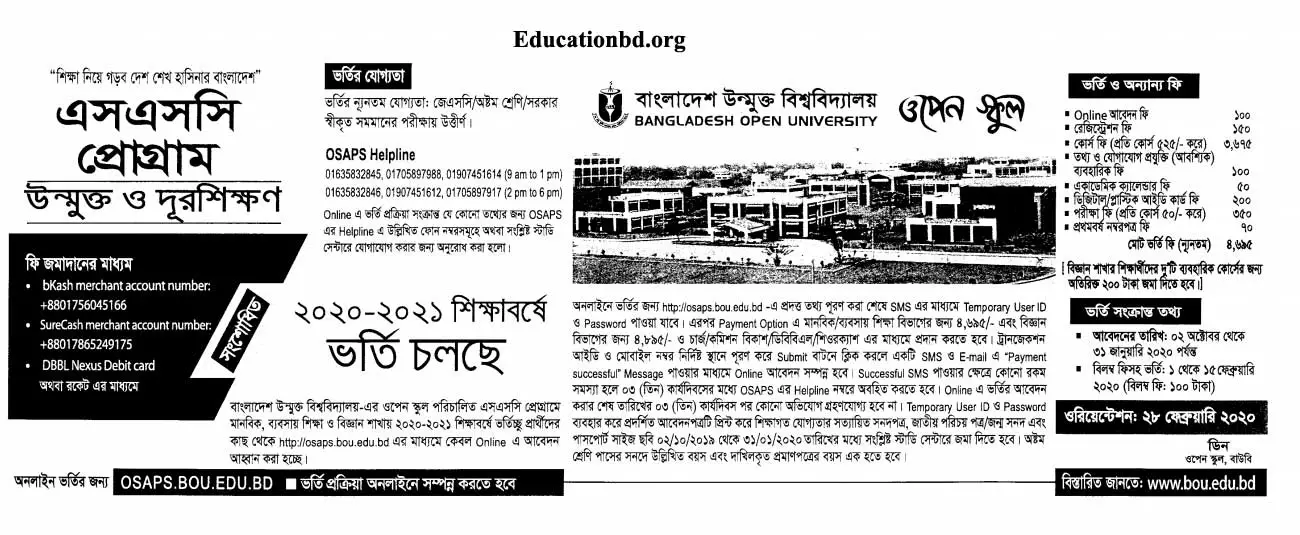 Bangladesh Open University SSC Admission 2022-23 Information
More than 400 students cannot be admitted to each Regional Center. One of the following things will be required for admission.
Receipt of money deposited in the bank.
Application submissions form will require.
Attested Photos(3-copy) by Study Center.
A national ID card or Birth Certificate
Education Qualification Certificate Photocopy with Attested
Admission Fee
Admission Fee must require for BOU SSC admission. Check Admission in details:
[wpsm_comparison_table id="86″ class="center-table-align"]
Total 3780/- will require for BOU HSC admission 2022.
Special Note: The selected candidate will admit in the Study Center at the concerned individual. Any letter regarding admission will not send to the university.
No money can pay more than the stated amount. If this happens, legal action will take against those involved with the cancellation of admission. Candidates will have to provide accurate information during information entry. If this is not the case, then the entrance will be canceled.