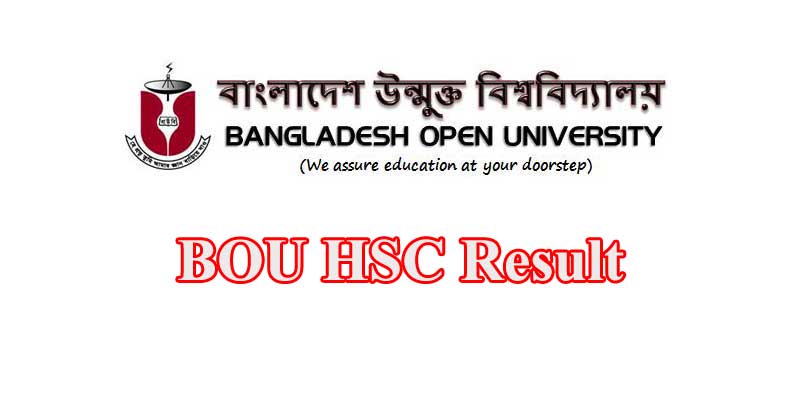 Are you looking for BOU HSC result 2019 under Bangladesh open university? Then you are in the right place. After reading this post, your concept will be clear how to get your BOU HSC Result 2019. The BOU HSC result in 2019 will publish 15th September 2019(100% sure). This year of 2019 BOU HSC exam started from 26th April 2019 and continued to 5th July 2019. You can download Bangladesh open university HSC result in 2019 from Education BD.
BOU HSC Result 2019 Publish Date
BOU HSC Result 2019 will publish within 60 days after finishing the exam. So we can Say that The BOU HSC result 2019 will release in September. Every Year Many Students Attends BOU HSC exam. This year of 2019 A huge number of students participated in the BOU HSC Exam. Bangladesh open university has many sections for their students. The Open University of Bangladesh applies to people of all ages. Bangladesh Open University was set up in Gazipur in 1992 to give all education to the doorstep of all the people through the training program.
BOU HSC Result 2019
How to check BOU HSC result 2019 online? This is the most common question for every student in Bangladesh open university. We are now showing you the proper way to get your result online as well as mobile SMS. You can check your result with full mark sheet and BOU students can also check their result year wise. So let's start.
Final Result:
Link: www.bou.ac.bd/result.php
First Go Above Link
Select HSC From Examination Name
Enter Your Student ID
Click on View Result.
Check Result Online
BOU HSC Result Semistar Wise:
Link: Exam.bou.edu.bd/index
Select HSC From Programm
Give Your Students ID
Click On Result
SMS Method: To get results of HSC, ASSC, BBA, BSS / BA, B-AD Examination of Open University, go to the mobile message option.
Type BOU
Student ID
then Send To 2777
Without Banglalik Operator For Banglalink Send To 2700
Example: BOU 08010012237 and Send to 2777 For Banglalink Send To 2700
Bangladesh Open University HSC Result 2019
Examinations of the HSC examinees of the open university of Bangladesh can see that many students participate in the exam each year. Now Check the Statistics of BOU HSC Exam Result 2018.
Pass Rate: 52%
Total Students: 191675
Number of Students Appeared SSC 2nd Year Exam: 78073
Passed Students: 45442
GPA 5:- 15
"A":- 1995, A(-): 9029, "B": 17943, "C": 22406, "D": 1057
Male Students: 29152
Female Students: 23290
Statistics of BOU SSC Exam Result 2019:
Pass Rate: –
Total Students: –
Number of Students Appeared SSC 2nd Year Exam: –
Passed Students: –
GPA 5:- –
"A":- -, A(-): -, "B": -, "C": -, "D": –
Male Students: —
Female Students: —
Thanks, Guys for reading this whole article about BOU HSC Result 2019. You will Get Bangladesh open university Result from this page. If you have any question then comment below or send us a message on Facebook. All the best for your result.