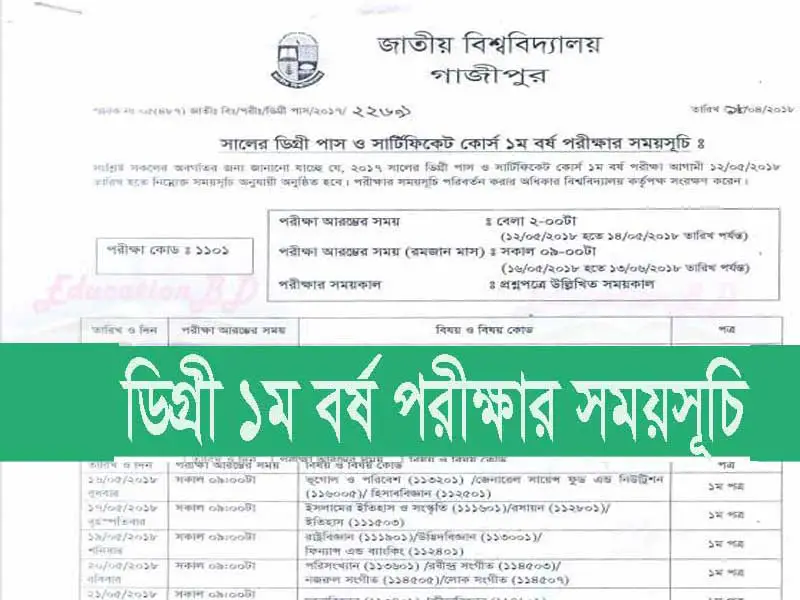 Welcome to Nu degree 1st year exam routine 2019. National University Published exam routine of the 1st year 2019 for Degree pass and Certificate course students. National Unversity Degrees 1st year exam routine 2019 is available on our website. Students of nu Can Download their exam routine from here.
Degree 1st Year Exam Routine 2019 – nubd info
Nu published degrees 1st year exam routine today. Students of National University were waiting for this routine. Finally, There waiting is over. Today of 10 October 2019 Nu issued exam routine for pass course and certificate course students of Degrees. This routine is available only for the students who admitted the college of 2018 under the National University. The exam will begin on 12 December 2019 and It will finish on 13 January 2020. It is a long time of examination. A student can quickly improve the ability to do well in the exam. I suggest you don't waste your time and use this time correctly. I am sure you will get a better result to your examination. Read more and more forgetting better result in your test.
সবার আগে ডিগ্রির সকল তথ্য পেতে ফেসবুক গ্রুপে জয়েন করুন
Nu Degree 1st Year Exam Routine 2019
Nu is the most prominent platform for rural students who are not able to admit public University. Degrees students are the last sector students of National Univerisity. Honours courses are very much crucial for nu. The degree is the 2nd chance for the students because they didn't admit the honours course to any college. For that, They acknowledged degrees pass the course for completing their graduation. Students will get all the information about degrees/honours from our website. This site will provide you with all the facilities that you really and you can comment on your problem here. We will solve your problem after seeing that.
National University Degree 1st Year Exam Routine 2019
Degrees exam will start in May and end in June. Fasting will begin during this test. National University changes this routine during the time of fasting. It is excellent news for students.
Before the fasting, the test will begin at 2 am, but during the starvation, the test will start at 9 am. National University has arranged this for the students not to suffer during fasting. Examination before Ramazan 12 May to 14 May 2019.During the Ramadan test date from 16 May to 13 June 2019
Exam start time:1 PM(24/11/19-31/12/2019)

Test period: 

The period mentioned in the question paper

The exam code for All Degrees Students is 1101. You have to write this code to your Answer sheet.
Degrees 1st Year Routine 2019
Change Routine: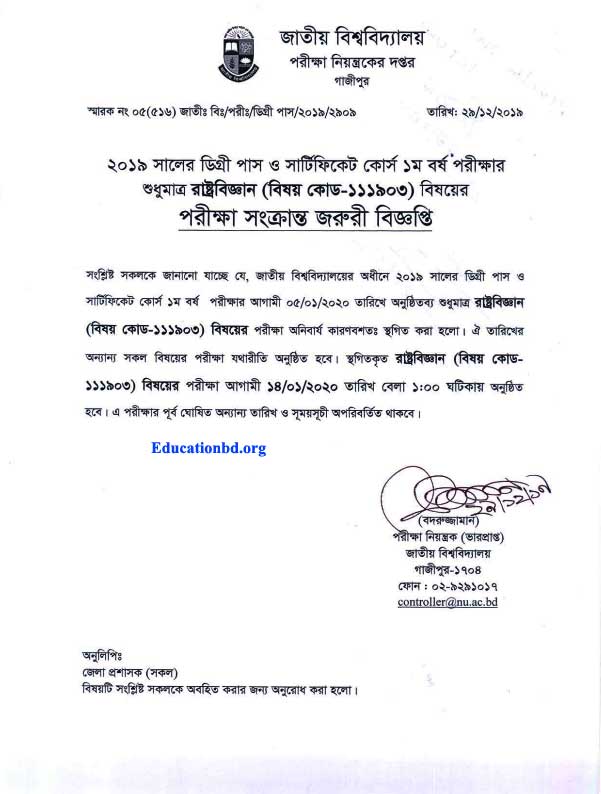 Download Degree 1st Year Routine PDF
Degree 1st Year Exam Seat Plan 2019
Degree first-year exam seat plan will also available on our website Education Bd. We will provide you with the exam information about your seat plan. Stay connected to our site and comment on your problem. What do you want from us? After publishing the seating plan, we will upload here and after that, you can check. Candidates usually do not have their seats in his/her college. So the testers have to go to another college to test them.
Degree 1st Year Form Fill Up Notice 2019
A few days ago Degree 1st year form fills up 2019 finished. This form fills up is only for the regular and irregular students of Degree 1st year students. The regular session of Degree 1st year is 2018-19 and irregular sessions 2017-18 and 2016-17. NU fully completed Degree 1st year form fill up 2019. The routine will publish soon. You can check full details of Degree 1st year form fill up 2019.
Degree 1st Year Exam Result 2020
Nu Degree 1st year exam result 2020 will publish within three months after finishing the exam. Students need to wait for the outcome. The Degree result will also be available on our site. We will give the information about how to get your Degree Result. So keep with us to get the right info.
Check Degree 1st Year Result 2019
Thanks for visiting our website. I hope your exam will be very good. Like our Facebook page for getting more information instantly.