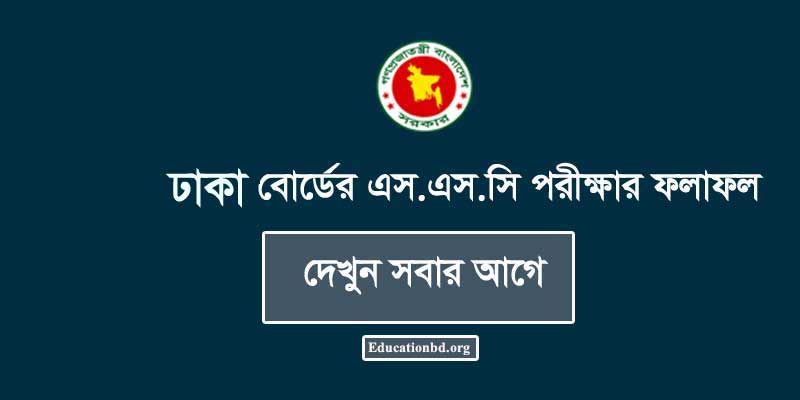 Are you looking for Dhaka Board SSC Result 2019? Then you are the right place. Here you will get the precise information on how to get your Dhaka Board SSC Result 2019 in Bangladesh. Dhaka Board SSC Result 2019 will publish in May 2019. The SSC Result 2019 Dhaka Board will publish Simultaneously as well as all education board in Bangladesh. This year almost 473241 students participated in SSC examination from Dhaka Board. It is increasing day by day by comparing the previous year. Dhaka Board SSC Result 2019 will be available on our site After publishing.
Dhaka Board SSC Result 2019 Publish Date
The Dhaka Board SSC Result 2019 will be published on 6th May 2019. It is the Probable Date of SSC Result 2019. Check The Previous year SSC Result for Dhaka Board as well as other education board in Bangladesh.
| Serial No | Year | Date |
| --- | --- | --- |
| 01 | 2018 | 6th May |
| 02 | 2017 | 17th May |
| 03 | 2016 | 11th May |
| 04 | 2015 | 30th May |
So this year, on 6th May, SSC result will be published.
SSC Exam 2019 Dhaka Board Statistics
Statistics of the SSC examinations of Dhaka Board this year are given below.
Total Students: 474637
Total Centers: 467
The number of Absent Students: 1396

Number of Students Present: 473241
Dhaka Board SSC Result 2019
Students Can check Dhaka Board SSC Result 2019 online as well as offline. Here is all the process of how to get your SSC Result 2019 for Dhaka board.
First Method: Educationboardresults.Gov.BD
Go Above Website
Select SSC/Dakhil/Equivalent
Select 2019 From Year
Board Type: Dhaka
Give your Roll
Submit Your Registration
Then Click Submit.
Check Online
Second Method: Eboardresults.Com/App/Stud/
This Website will give your result instantly with your Marksheet. You can also Check your marks from this Method. Let's start:
First Go Above Site
Select SSC/Dakhil/Equivalent
Year: 2019
Select Board: Dhaka
Result Type: Individual
Give your roll
Provide your Registration To Get Your Marks
Click Get Result.
Third Method: mail.educationboard.gov.bd/web
The best way to get a school-based result is to have a simple method. Through which you can easily see results in your school.
First Go Above Link
Select Dhaka Board
Your School EIIN Code
Click Get Institution Result. This method will get you results 10-15 minutes before the original result is published.
SSC Result 2019 Dhaka Board: SMS Method
Students Can Check their Result without online method. This is the easiest way to Get your result. First Go To your Mobile Message Option: Type:
SSC<Space>DIN(1st 3 Letters Of Dhaka Board)<Space> 2019 And Send To 16222.
SSC Scholarship Result 2019 Dhaka Board
SSC scholarship results will be published based on the original results. The result of which is as much as possible to get scholarships. Last year many scholarships were received from Dhaka Board.
You can check your result on our website Education BD. We will provide you the Exact date of SSC Scholarship result 2019 For Dhaka Education board.
Thanks For reading this post. I hope your result will be very much good.